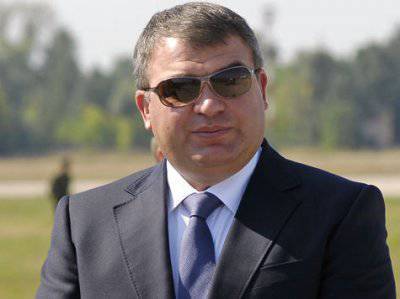 Serdyukov removed - nationwide joy! But if you think about what to rejoice?
The trouble is not what he has done - from him there was nothing else to expect. Serdyukov is not to blame for taking the Russian army as his own business. Like the cooperative in which he began to make stools. By the way, those who saw these stools, claim that they were very high quality. No wonder he drove gave - Taburetkin (military version - Feldmebel). Serdyukov did not create anything better in his life for humanity. They say that even the army put a huge batch of stools. Apparently, when Putin, after a loud resignation, assured the Russians that the defense minister had done something good for the army, he meant it.
So the trouble is not in Serdyukov. He is by nature a speculator (although today they are called businessmen in our country). The trouble is that he was appointed to the post of defense minister. And publicly we could rejoice not in his removal, but if Putin and Medvedev publicly asked for forgiveness for this. They can do it together - in tandem, or one at a time. Introduce in
the news
: the president suddenly gets into the pose of a first-grader who is late for class and says: "It's my fault for everything that happened. I won't do that anymore, I realized that I was wrong. Yes, yes, I realized that the fact that Serdyukov married the daughter of my friend is not enough to be appointed to the post of defense minister. Forgive me, good people, honest pioneer, this will not happen again. It's just that when we appointed him, I was sure that he would cope, but life has shown that he let us down. Not only did he steal, he also turned out to be an unfaithful husband. "
Ok right While the Minister of Defense was cheating on his homeland, crushing the army, no one touched him. And when his wife - the daughter of the friend of the Chief - changed, it was then that they remembered that before that he had also changed his Motherland!
Of course, such an apology from the face of the Kremlin can only be dreamed of. Although I am sure that if the president decided on this, his rating would have jumped so that he would continue to want to repent also for Fursenko, and Golikov, and for everyone else. Would enter the taste. That would definitely benefit the Motherland. And he, by the way, too.
Even if he, as an actor, played this repentance, they would still believe him. The actor is wonderful. Remember how zamotochil after the election? And then, you see, they took off Serdyukov and are proud: well, they say, what kind of honest ones are we are fighting against corruption. What kind of corruption? Which they themselves spawned? I also found Taras bulbs. Or did you really believe that Minister Tabouretkin would make the Russian army powerful under the leadership of women?
Ask any military man - nobody Taburetkin respected, except those who stuck to the financial scheme of the Russian Army JSC, in which the controlling stake belonged to the minister, and almost all other shares belonged to his harem. Along the corridors of the ministry - funny shots showed! - there were such cats with claws longer than the skirts. They had nothing to do with the army except with war paint on their faces, as well as the fact that they were quicker than others to execute the command "lie down!" Not the ministry, and Cat's house.
Do you know what was the first shame of Serdyukov before the military? Shortly after his appointment, they showed how the Minister of Defense knocks one of the vice-premiers at the door of the office and asks: "Can I?" No military man asks such a question. The military man asks: "Allow me to enter?" I wonder when he knocked so much on Putin that he was answered by our Commander-in-Chief? "Will you please, my dear"? ..
Judging by the latest articles in the press, some of the Serdyukovsk cats will still be put in, and not at all in Koshkin's house. In general, taking into account the latest criminal cases initiated by the state and the landings that have already taken place (such as Pussy Riot and others), I predict that soon women's colonies and zones will get much better. The real glamor will pull out on his bunk with rhinestones and wear a robe from Armani and Louis Vuitton. Who would advise, by the way, Louis Vuitton to stop scribbling bags for the Japanese and go to robes for Russian business leaders. More would have earned.
But if Serdyukov gets to the zone, it is even a pity. After all, he will go on a criminal case. And prison tillage, unlike our rulers, do not forgive treason for the Motherland, they can and ... However, he will always find a way out of the situation. For those grandmothers that he has, he will be able to get him to be transferred to a deadline for the female zone. At the very least, he will build a personal five-star prison cell for himself, and he will do business with it. Such a VIP area will not be empty.
... And I would like to see how Serdyukov returns to the zone to the labor skills of youth, to the stools. True vocation - it is more expensive than the title!
But jokes are jokes, but I still expect an apology from our rulers, and even somewhere in my heart I believe that they will figure out how profitable it is for them. Otherwise, the trust of the people will be extremely difficult to return. Well, okay, they do not want to publicly, even if they ask your church mentor for forgiveness. Repent. After all, they are believers, our rulers. Have you seen how they were baptized at Easter? Synchronously, as in figure skating, - the unanimous assessment of "6.0".
Agree, it would be a touching thing to happen: the prime minister kisses the hand of the Holy One and says: "Forgive me, Father, for Serdyukov and for what he has done. It's my fault, not him. Wrongly the servant of God understood my installation for modernization! "- and so feelingly he says it, that he misses the excitement and kisses the Holy One ... in hours. And he adds: "God bless me, holy father, so that some day I will get such a clock from the Lord!"
By the way, I feel sorry for our Prime Minister Medvedev as well: how he fought for the modernization of the army, how he fought! With such enthusiasm, I approved the purchase of helicopter carriers from France, which Sarkozy lobbied for. And how was it not to approve? It doesn't matter that they are not needed by the Russian army, they are so modernized! They have so many different buttons, beautiful screens ...
I remember the phrase from my speech a year ago: "The army was modernized, modernized, and not modernized!" And now it will not be possible to keep silent about this purchase: in France, a criminal case was launched against Sarkozy and publicly declared a corruption component in the cases with the Russian Oboronservis.
In general, the word itself is delightful - "defense service". Service in the defense. The enemy attacked, and he once - service provided the Ministry of Defense!
The criminal case against Serdyukov's "associates" is, of course, only the surface part of the iceberg. But will ever open underwater? For example, they will tell us which combat vehicles needed for Russia's hot spots were purchased by Oboronservis (well, of course, for service) in other countries? What worthy heirs
tank
"T-34" - BMW 525, BMW 740, Porsche Cayenne, Mercedes-Benz S500 ... All of them must have been equipped with extremely modernized acoustic systems: the enemy attacked, and we shandarahn him with a radio from BMW! And finally finished off the BTR Land Cruiser with bluetooth.
All this is modernization according to Medvedev. Medvedernization. For its implementation, a special army market headquarters was created.
And who should apologize to the people? Serdyukov? Evon women? Have you seen a biography of one of them, Marina Chubkina? At 30, she was already a full state adviser to the Russian Federation of the third class! This corresponds to the major general in the army and rear admiral in
navy
. Incidentally, Vladimir Putin personally appropriated the "adviser" to Chubkina. By the way, most recently, in July 2012. He does not want to apologize to the people for this appointment?
By the way, Marina Chubkin is very good. I managed to get out from under Serdyukov and lie down under the Russian Railways. Just in time. Before the scandal broke. Or maybe she is a misleading Cossack? Everything where she works gradually falls apart. And to her - even if only it blooms and prettier. But now it became somehow alarming for the train.