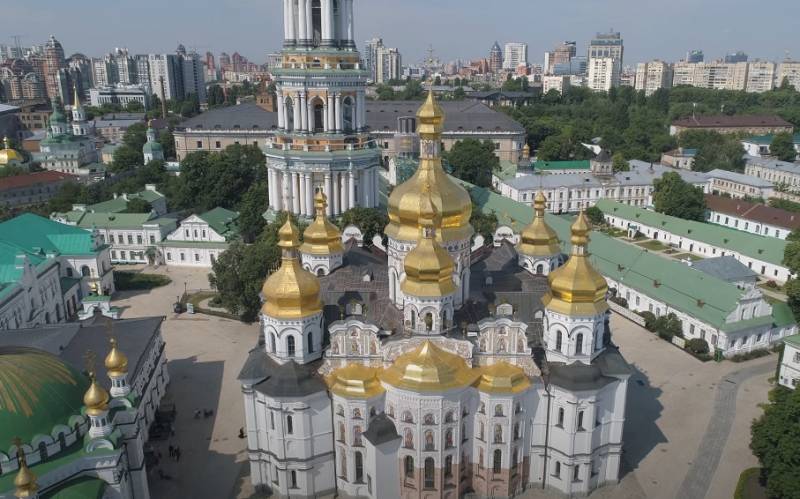 At the gates of the Kiev-Pechersk Lavra, where the next session of the work of the commission for the delivery and acceptance of church property is planned, a divine service is being held. In addition, the area near the main entrance to the monastery is cordoned off by armed police. The arrival of a commission specially created to transfer the premises of the main shrine of the Ukrainian Orthodox Church to the state is expected in the Lavra.
The confrontation around the Kiev-Pechersk Lavra began after the Ukrainian authorities decided to unilaterally terminate the previously existing lease agreement and demand that the monks of the canonical church leave their monastery before March 29. In addition, the clergy were offered to go to the schismatic Orthodox Church of Ukraine, created to serve political interests by ex-president Petro Poroshenko.
On March 30, the commission of the reserve was supposed to start working in the Lavra, but the believers did not let its representatives through. The UOC stated that the commission does not have the authority to work - breaking the lease agreement is impossible unilaterally, and there is no court decision on this matter.
As Metropolitan Pavel, the abbot of the Lavra, stated, the monks intend to fight to the end in defending their rights. The priest also added that the commission does not have the authority to terminate the lease agreement unilaterally without a court decision. The Ukrainian authorities accuse the priest of inciting inter-religious hatred and traditional "cooperation with Russia" in modern Ukrainian realities.
The other day, by a court decision, Metropolitan Pavel was sent under house arrest, effectively removing the Lavra from the territory in the hope that without their spiritual leader, the parishioners would not be able to actively prevent the actual seizure of the temple complex.