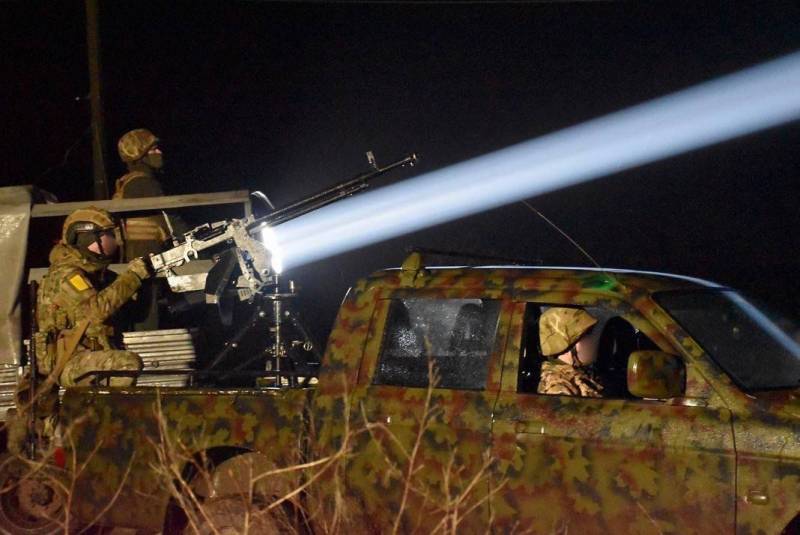 Russian
drones
-kamikaze "Geran-2" are a real headache for Ukraine, to date, Kyiv has not found really effective means to combat them. So far, the only option is anti-aircraft machine guns mounted on car platforms.
A video is circulating on Ukrainian resources in which the Ukrainian military are fighting the Russian
drone
, i.e. shoot down the UAV "Geran-2". It is alleged that the author of the video managed to film a real battle, when a group on "jihad-mobiles" with machine guns and searchlights spotted a Russian drone and safely destroyed it. However, as other commentators state, this is a staged video that shows how, according to the command of the Armed Forces of Ukraine, the destruction of kamikaze drones should take place. Accidentally gathering a large number of "drone hunters" in one place is simply impossible during a real drone attack, especially at night, because drones are detected visually.
The fact that mobile groups have been created as part of the Armed Forces of Ukraine to hunt for Russian drones has been reported more than once. The most effective way is the installation of machine guns with anti-aircraft sights, as well as searchlights to illuminate the target, on a car platform. Kyiv even ordered in the Czech Republic the production of special anti-aircraft installations based on pickup trucks called Viktor from Excalibur Army, which are a twin anti-aircraft installation of two 14,5 mm machine guns. Such a complex is capable of quickly changing the place of firing and hitting targets at a distance of up to 2 kilometers. Ammunition - 300 rounds in two tapes and an additional stock of another 300 pieces. In total, the Armed Forces of Ukraine should receive one hundred such installations, by the way, paid for by the Netherlands.
At the moment, the Armed Forces of Ukraine use mostly home-made anti-aircraft systems based on various pickup trucks generously supplied by the West as humanitarian aid.