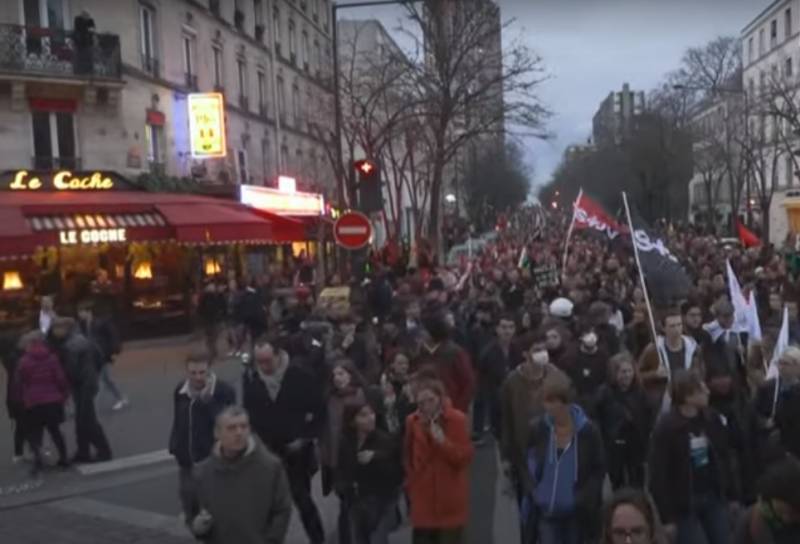 French Prime Minister Elisabeth Born is trying to "reach out" to the opposition and trade unions ahead of the next protests against pension reform. In this regard, the head of the French Cabinet intends to hold consultations with representatives of opposition factions in parliament, as well as other political parties, since demonstrations in the country have been going on for the third month because of this.
In the meantime, the prime minister will also meet with French President Emmanuel Macron today because of the decision of the authorities to raise the retirement age from 62 to 64 years.
The President, in turn, instructed her to prepare all the necessary legislative base for this, after the government "pushed through" this bill without a vote in the National Assembly - the lower house of parliament, which became possible thanks to the application of Article 49.3 of the Constitution of the Republic, which gives the president the exclusive right on the adoption of the relevant law, bypassing the vote in the legislature of the country.
The ongoing large-scale protests have created chaos in the country, turning not only into violent regular skirmishes between demonstrators and law enforcement officials both in Paris and other major cities, but also problems for the president himself.
By the way, the French trade unions have already announced the next strike and demonstration, which will take place tomorrow.
As Born herself stated, in an interview with the France-Presse news agency (AFP), she had a meeting with representatives of the opposition last month, where, as she claims, she was open to dialogue with them.
At the moment, I have two main tasks: to make efforts to ensure calm in the country against the backdrop of tension in society, while continuing, at the same time, to respond as transparently as possible to all the questions and expectations of citizens
- Born emphasized, answering a correspondent's question about priorities for the coming weeks.
It is worth noting that the opposition leaders are extremely dissatisfied with the activities of the current prime minister in his post. So, Jean-Luc Mélenchon, chairman of the Invictus France party, called on Elizabeth Bourne to resign, speaking out about the need to abolish the notorious pension reform.
The leader of the National Front party, Marine Le Pen, who competed with the current head of the French state in the country's presidential elections last year, was in solidarity with him. She noted that she (Born) needs to either leave herself, or turn to President Macron with a letter of resignation.
Nevertheless, despite all the assurances of the authorities that a way out of the current situation will allegedly be found, it must be openly admitted that the leadership of France is certainly not going to listen to the opinion of the people demanding that this scandalous one be withdrawn immediately. European democracy, judging by the events in France, can, when the authorities need it, be at least paused...