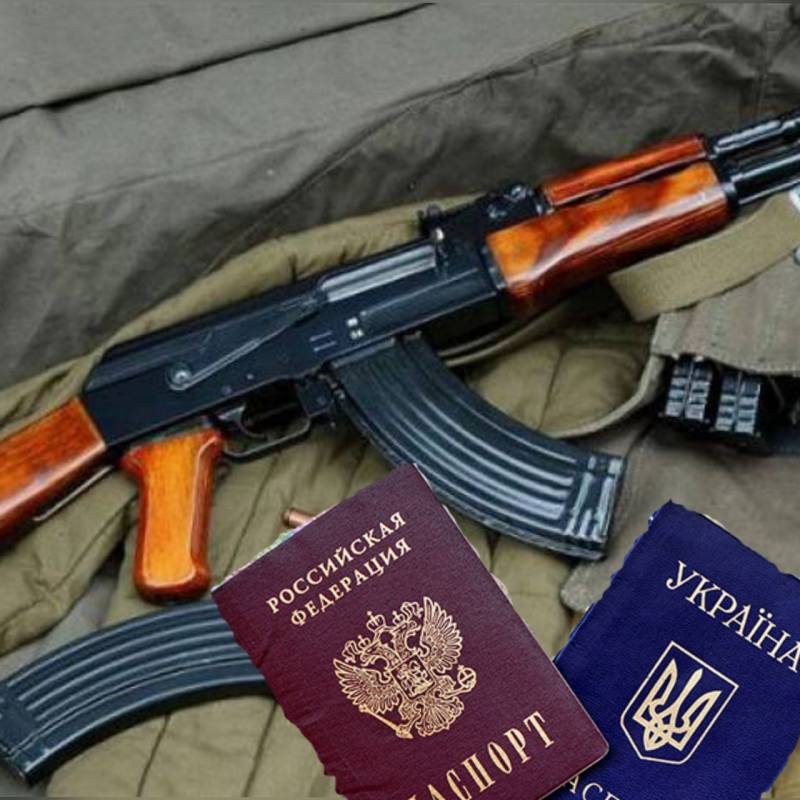 The country is calling for help in liberating its southwestern outskirts from fascism.
And this
correctly
!
Extra hands at the front and near the front
not
It happens. Neither a tanker nor an artilleryman fights on his own ... Now everything is in motion, even when on the defensive.
Correctly
that they are ready, even as an exception, to accept into their ranks and people of advanced age. In the presence of health, life experience is a serious help in the war.
But ... To the war for the liberation of Ukrainian
а
other, which goes on its own territory - Ukrainians
do not take
!
We are not talking about the inhabitants of Crimea, Donbass and already liberated territories.
Instead of a short but thorough check for reliability, taking an oath and "starting training" in military affairs ...
Any Ukrainian, if he is not a resident of the republics and did not manage to get a Russian passport in the abandoned Kupyansk or Kherson, will have to go through the bureaucratic offices for many months together with fellow Tajiks.
And the Russian official does not care that you are an anti-fascist. And with all the fibers of your soul you hate the one who came not to your borders, but to your house - Bandera. I don't care that the Nazis burned your house, and you managed to take it out of the fascist Mordor
almost
all your loved ones.
The Russian legislator does not give a damn about your desire to return to your home not someday, but even last summer.
Captured Veseshniks are being prepared for reforging into Bogdan Khmelnitsky - this is very correct, although belatedly.
But there are many who have not stained themselves with the service of Bandera at all. At the same time, for various reasons, still possessing a passport with a "trident", they are geographically located neither in Ukraine nor in Russia.
Well, not everyone in Russia had relatives and a place of work ... It happens.
War for Ukraine without fascists, but without Ukrainians...
And such a person will be able to take part in the process of liberation from fascism of his own "Batkivshchyna" only after a long walk through the offices a thousand kilometers from the place where he actually lives.
Reasonable formalities are, of course, necessary. But they should consist of due diligence, not paperwork.
No one
not
embarrassing that a Russian passport must be earned, and not received in the order of the queue?
That a Ukrainian who wants to join the troops should be given this right immediately after verification, to provide his relatives and himself with social guarantees equal to citizens of the Russian Federation, and a Russian passport can already be handed over in a trench among comrades.
How many fewer queues from AKM did the Banderists receive while anti-fascist Ukrainians fill out all sorts of forms and questionnaires?
Who can be more motivated than the one who defends and liberates his home?
The situation, in my opinion, is not even strange, but frankly wrecking. If there is no trust in Ukrainians... Then why all this?
or man
to
handing over the passport of the Russian Federation is still so-so ... And as soon as they shook hands with him after months of walking around the offices and handed him in, did he immediately begin to comply?
How many Ukrainian men have already left for Europe? How many continue to leave Ukraine by hook or by crook?
Obviously, this is not happening because of love for the Bandera people.
Even if among them 1% wants to return to their home with a chevron of the Russian Defense Ministry, then these are thousands of motivated and angry men. Who do not need to agitate and convince.
But then again...
They must first go through the procedure for acquiring citizenship of the Russian Federation. Move from Europe to the Russian village. Submit documents properly - arriving in person, and not at the nearest consulate. Well, don't rush any further...
For most of you, all of the above will be a revelation, but it is. For the same ultimate goal - invented by an official, the path for Mykola from Cherkasy is much longer than for Kolya from Chelyabinsk.
In this matter, we need a regime of maximum favored nation and the realization of a patriotic impulse, and not formalities extended in time and geography. He knocked... He opened the door. You are in a trench, not in a corridor with offices, in a queue that lasts for months.
Through the trenches on our side it is necessary to let the maximum possible number of citizens of Ukraine still possible.
Today's Ukrainian anti-fascists in the NVO are people on the ground in the liberated cities and villages of tomorrow. With knowledge of local specifics and personalities. This is the influence on their friends and acquaintances in the territories that are still under the rule of the Nazis.
But we're not in a hurry, are we? All according to plan?
And here I want, bypassing the Russian village and homelessness at the station in anticipation of obtaining citizenship, to return with the Russian army to my little Russian village / city.
To earn in practice and already there to receive Russian citizenship with the same as me.
Well, the last.
Doesn't it seem to anyone that a man with a trident on his passport, fighting against Bandera, today is many times more legitimate than all possible options?
For Banderlogs, who do not know, what destroys their worldview most of all is when you crush them, being the same "hulk of Ukraine", and even communicate with them in the language of language. And if this also happens with fellow countrymen, and with knowledge of local specifics not from the Internet, then panic and a pig squeal begin on the side of the banderband.
Unfortunately, having taken up the decision of the main thing a year ago, we missed a lot of the most important trifles, in which this main thing stalled. I understand perfectly well that this issue requires detailed study, but it was decided not as it should, but as easier for someone.
Who benefits from the current state of affairs in this matter?
And none of those who
our
the side.