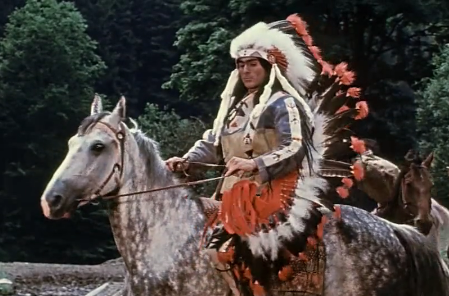 Frame from the movie "Sons of the Big Dipper" (1966). Tokei Ito wearing a typical Prairie Indian "solar" headdress
"I will tan this skin,
it will be soft and white,
I'll make moccasins out of it."
James Willard Schultz "Son of the Navajos"
Indians with and without tomahawks.
This material is the 1th in a row, and I wanted to make it ... prettier. And there are two themes in which bright and colorful photographs help to achieve this. It's knights and Indians! But knights are still mostly metal, texture, while Indian clothing attracts with its unusual appearance in itself. Although it is not so easy to find photographs of real Indian clothes that have survived to this day. In any case, those that are in public ownership. But here we are all lucky.
As it turned out, far away in Canada in the city of Calgary, Alberta, there is a Glenbow Museum dealing with lighting
stories
Western Canada, and beyond. So, in this museum there is a wonderful collection of Indian clothing, photos from which you can freely use.
This museum is generally very interesting, and we will turn to its artifacts again next time. But today we will confine ourselves to the Indian theme. Moreover, the story of how the North American Indians dressed and adorned themselves, I would like to start with memories ... about my childhood, which is not surprising.
As a child, of course, I heard about the Indians. At home I had a book by James Willard Schultz, The Lone Buffalo Mistake, in which, even before I could read, I looked at the illustrations with great interest. And then in 1960 they bought me a brand new, just published book "Homemade from natural material." The book shocked me.
It was beautifully illustrated and very clearly showed how to make homemade products from straw, acorns, bark - in a word, literally from everything, including feathers. And it told how to make a chic Indian headdress out of feathers! And the drawings in this book had such an effect on me that I quickly collected rook feathers and asked my grandmother to sew them on a fabric ribbon, everything was right according to the book. And in the end everything turned out according to the instructions.
So I became the owner of an Indian headdress, which was the envy of all my comrades, but it was very inconvenient to use it: the ribbon did not hold well on my head, twisted, and the feathers did not want to lie in order. Something the author of the book did not know, well, I did not understand, and even more so.
And only many, many years later, I learned the "secret of the golden key." It turns out that the feathers in the "solar" headdress were sewn not on a ribbon, but on a ... cap, which is usually not visible behind the feathers. That's why the Indians did well with them, but I didn't do very well. So these are the little things about Indian clothing that you should always know.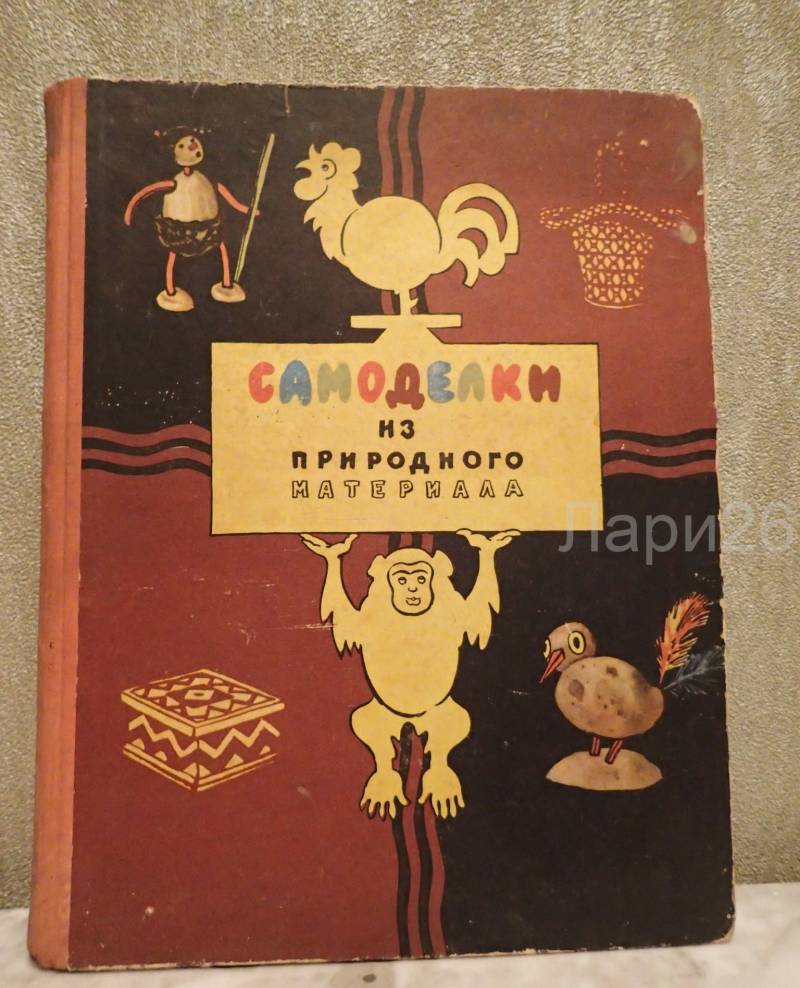 Here is the cover of this book… Truly a godsend for parents and children even today!
It is generally accepted that all the clothes of the Indians of the prairies and Canada were made from the skins of animals - bison, deer, antelopes. And yes, it was. But this concerned mainly winter clothes and ritual costumes for dancing. In everyday life, the Indians very quickly appreciated the practicality of European fabrics and began to sew their own clothes from them, or even use ready-made samples of pale-faced robes. For example, men's loincloths made of red and blue fabric, as well as woolen blankets, have become an important part of the Indian national costume. And the same goes for women's dresses.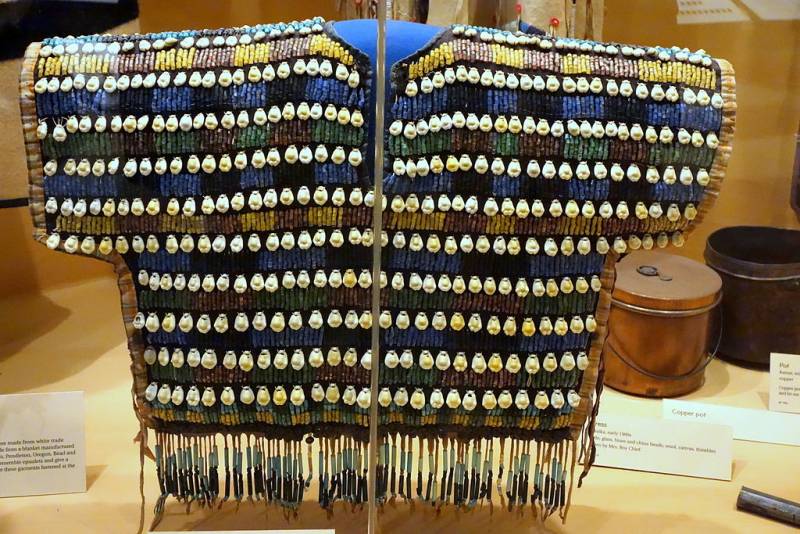 Women's jacket, late XNUMXth century. Cotton, glass beads, brass discs, cowrie shells, buckskin fringe
But there was something that was not influenced by European fashion. It was shoes - traditional Indian leather shoes - moccasins, which in each of the tribes had their own drawings and served as a kind of passport for every Indian, whether he was a man or a woman.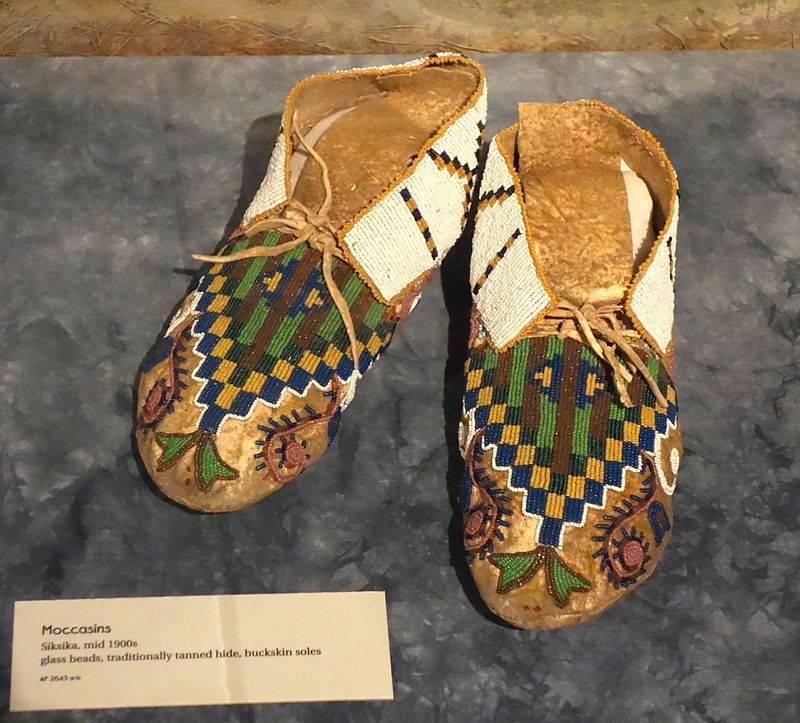 Moccasins. Sik-Siki. Traditional tanned leather, deerskin soles
It should be noted a very specific cut of Indian clothing, which practically did not produce waste. Previously, for tailoring traditional Indian clothing, tanned deer skin was needed, that is, suede - thin and soft. The size of the skin, as a rule, determined the size of the garment itself. So, if an Indian cut a shirt, then she cut off the upper third of one skin and cut it in half. This third made one sleeve and the front half of the shirt. Accordingly, from exactly the same skin, cut in exactly the same way, the second sleeve and its back part were obtained. After that, the sleeves and the shirt itself were sewn along the edge, and its finishing began.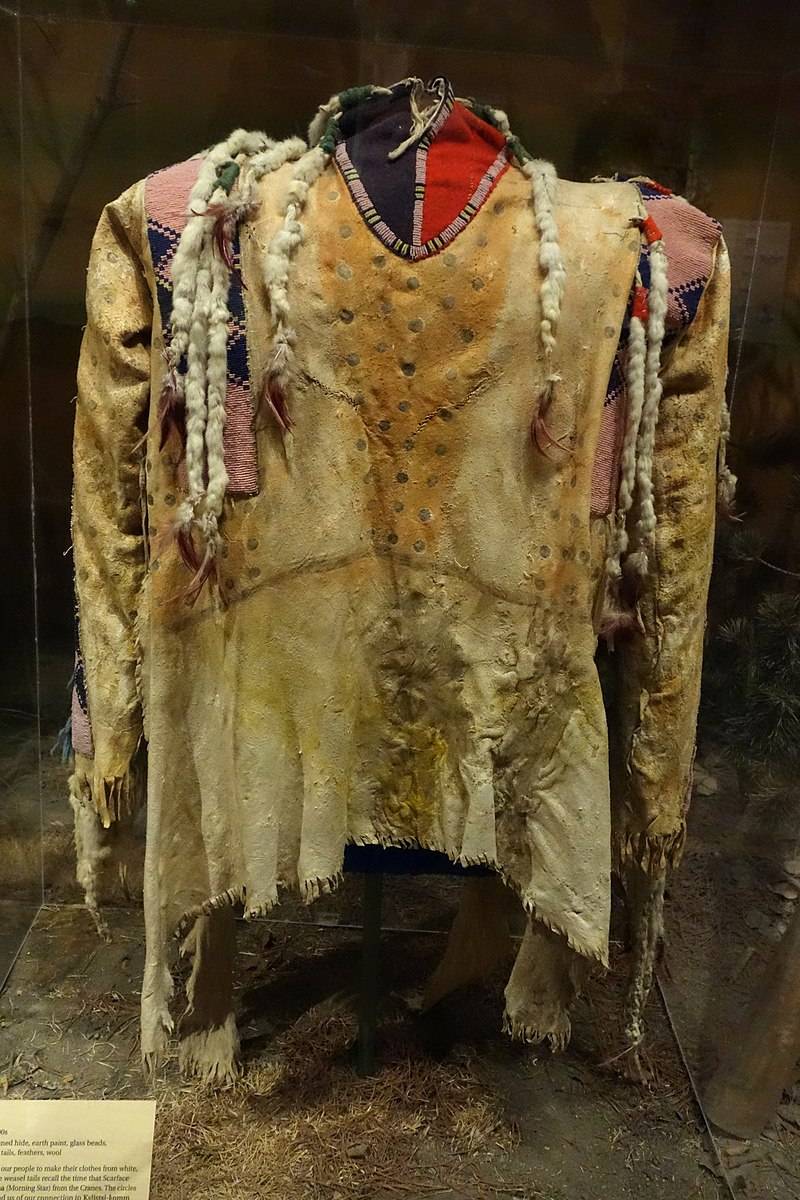 Typical shirt of the Sik-Sik Indians. End of the XNUMXth century Traditional tanned leather, ocher, glass beads, ermine skins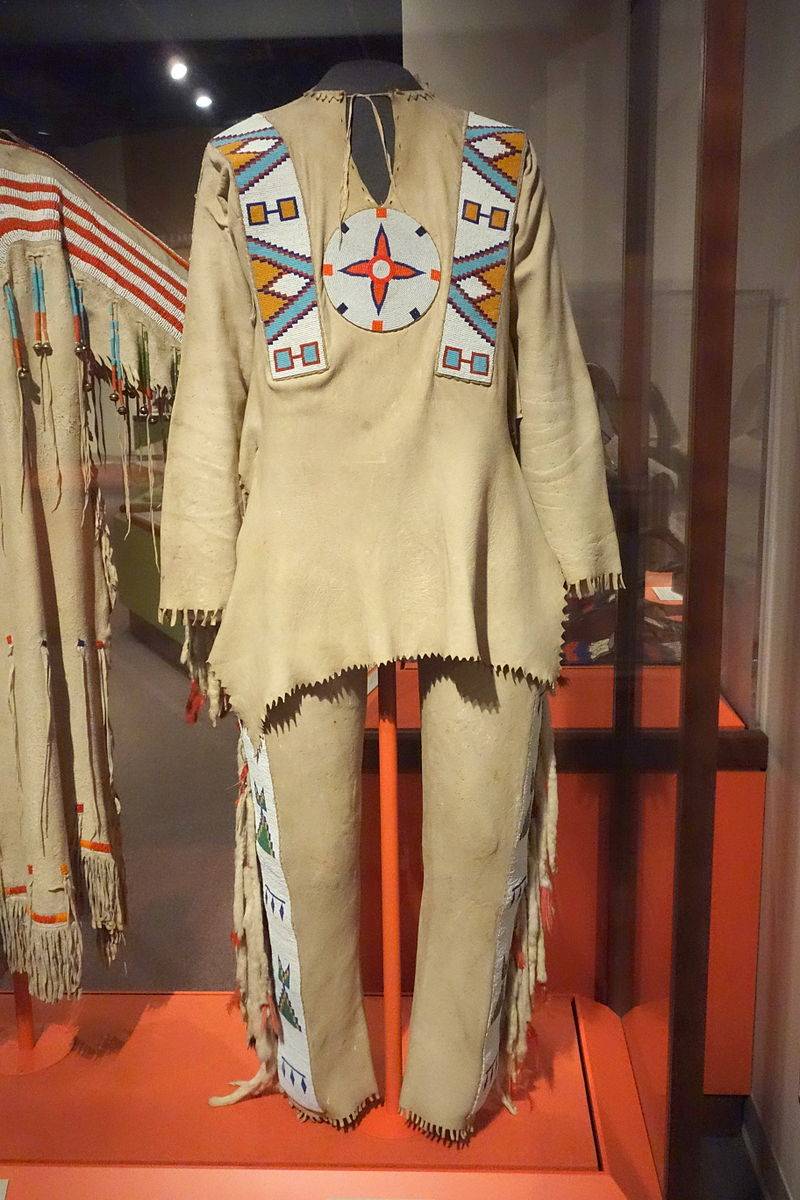 Shirt and leggings, 1890 Tanned leather, ermine skins, beads
Another Indian costume of the time. Belonged to an Indian of the Kaina tribe
The shirt was trimmed with patterns of porcupine needles or beads, sewn with fringe from strips of suede or scalp strands, painted on it images of the exploits of its owner. So, the transverse stripes on the sleeves showed the number of ku they had done. Drawn horseshoes - the number of stolen horses. The Sacred Pipe was drawn if a warrior led a military detachment. Shotgun - captured a gun in battle. Wavy rectangle - grabbed a blanket. Circle with a fringe - captured the shield, etc.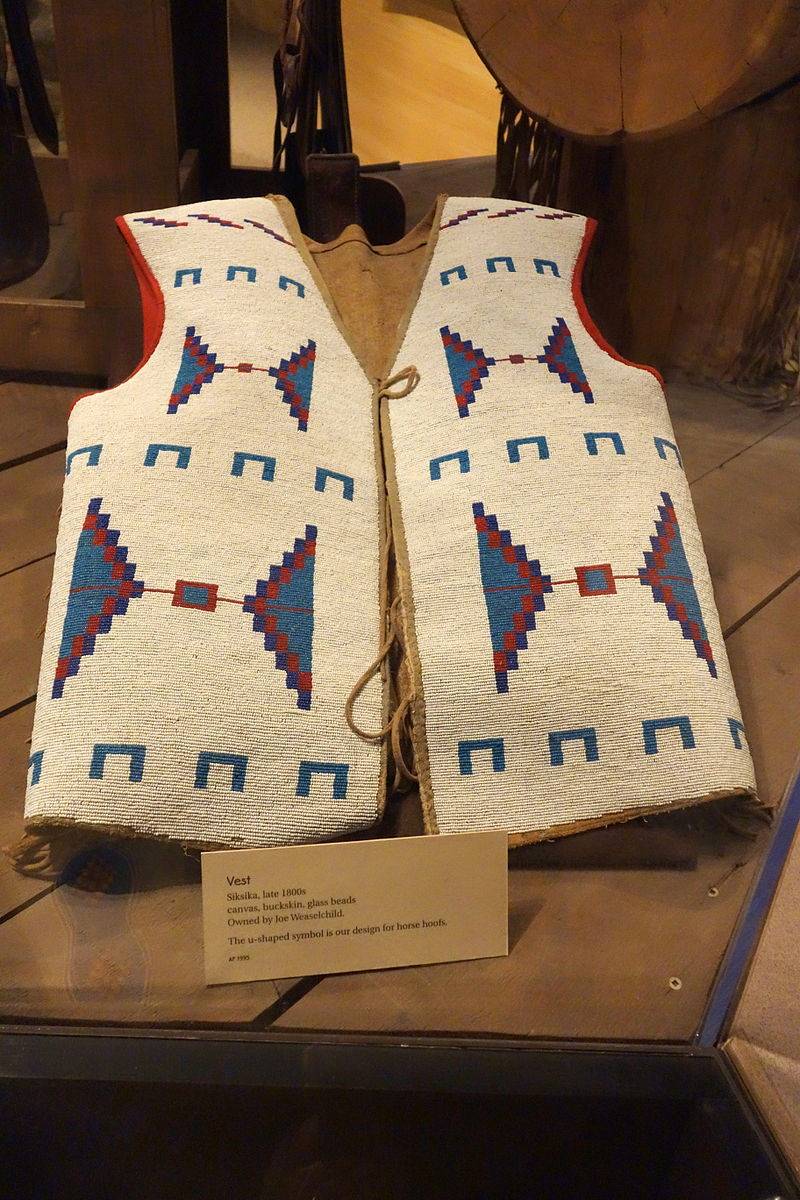 Sik-Siki. Sleeveless jacket entirely embroidered with beads. End of the XNUMXth century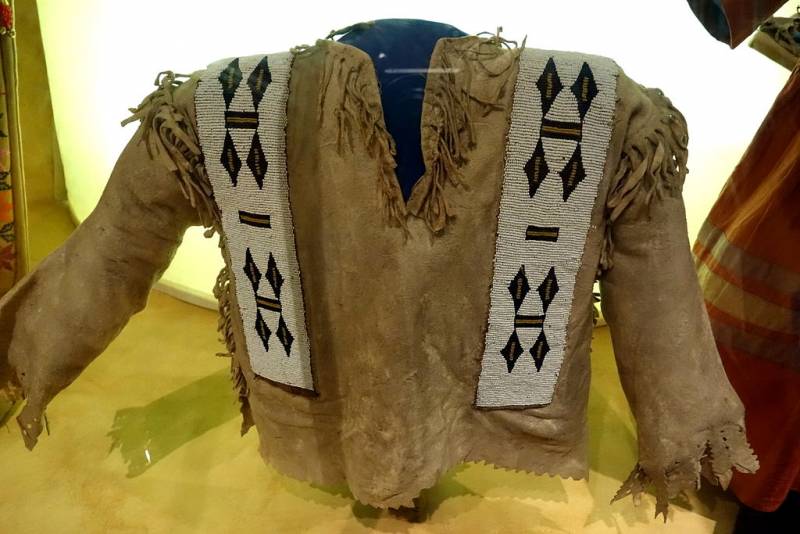 Sik-Siki. Boy's shirt embroidered with glass beads. End of the XNUMXth century
Men's red cloth shirt. Mid XNUMXth century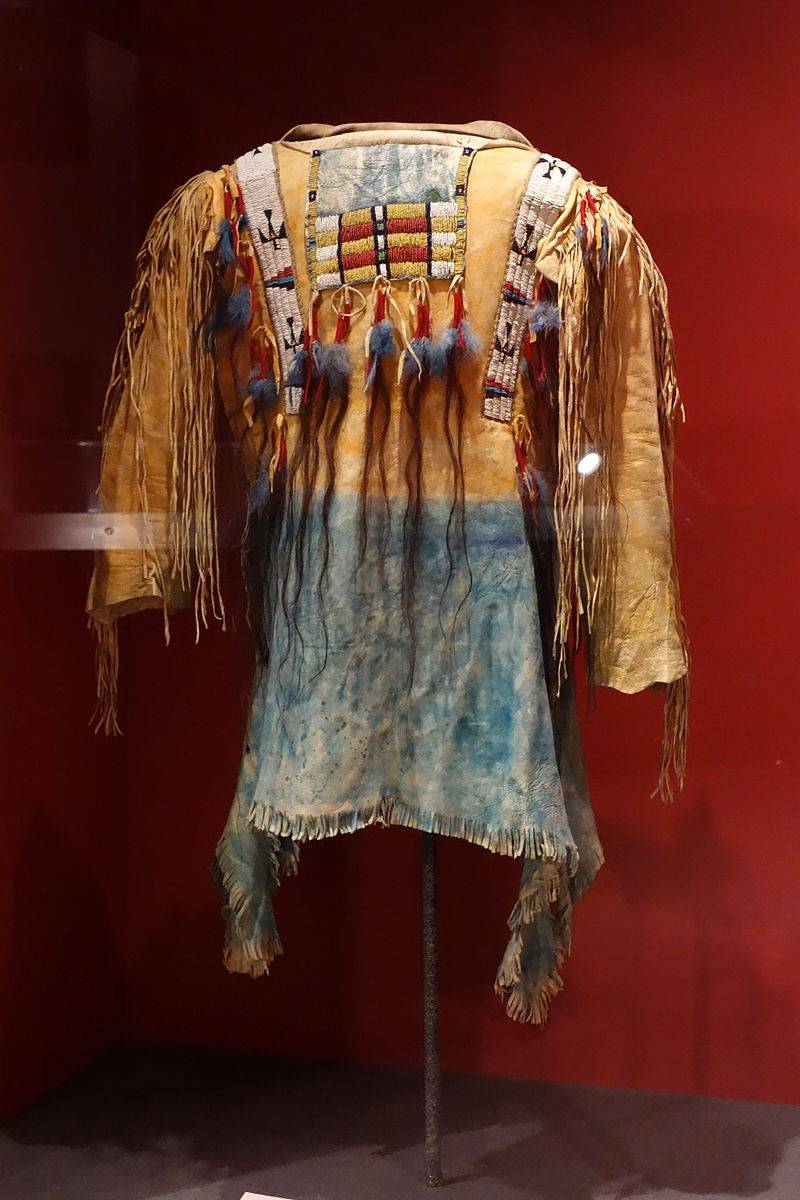 Apache shirt, early XNUMXth century. Embellished with beads and strands of human hair
Leggings were cut in a similar way - Indian non-sewn pants. Pieces with front paws were cut off from the deer skin. Then the skin was folded in half and sewn along the seam. So one leg was obtained, and a strip of skin from the back leg served as a tie. Accordingly, the second leg was obtained from the second half of the skin. After that, they were also decorated at the seams, and ... that's it! True, the Crow Indians preferred to make leggings from blankets using the same technology. Pieces of the blanket were bent in half, sewn to the resulting "works" of the string and embroidered at the bottom with patterns.
Men's embroidered tank top. End of the XNUMXth century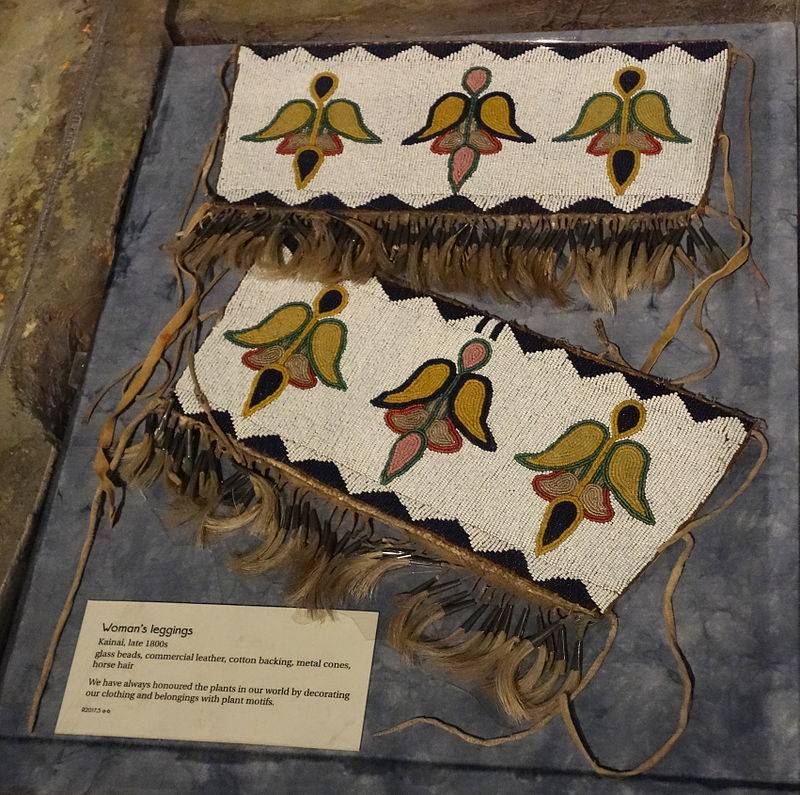 Women's leggings were shorter and tied under the knees. Kaina tribe. End of the XNUMXth century Suede, cotton lining, beading, metal cones, horsehair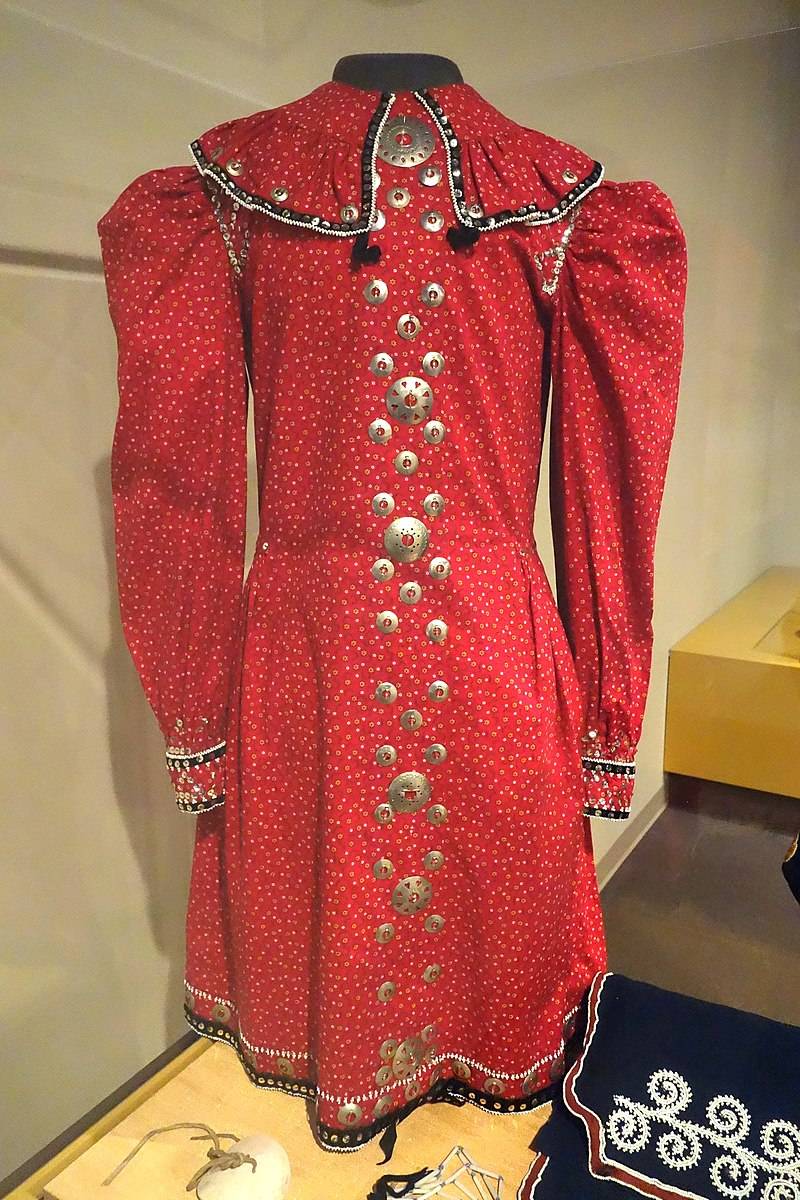 Women's dress decorated in Indian style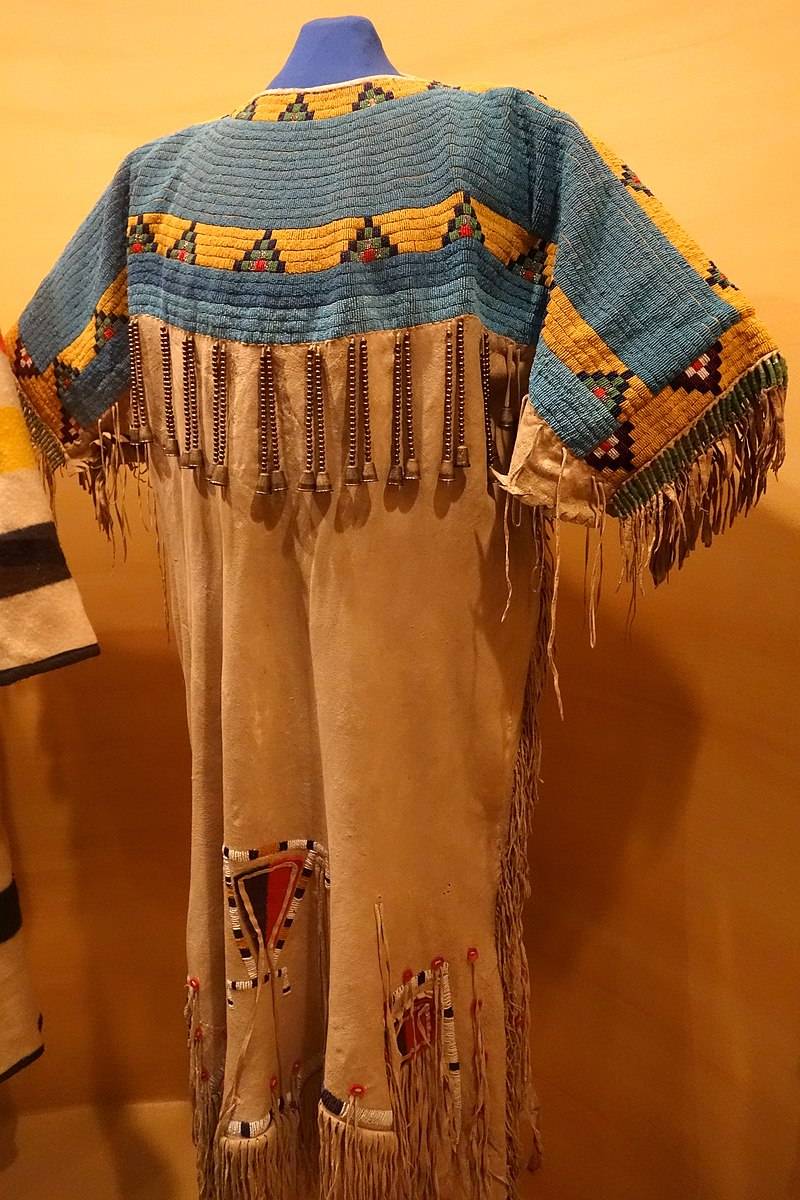 Sik-Siki. Women's dress, embroidered with beads and decorated with pendants with thimbles!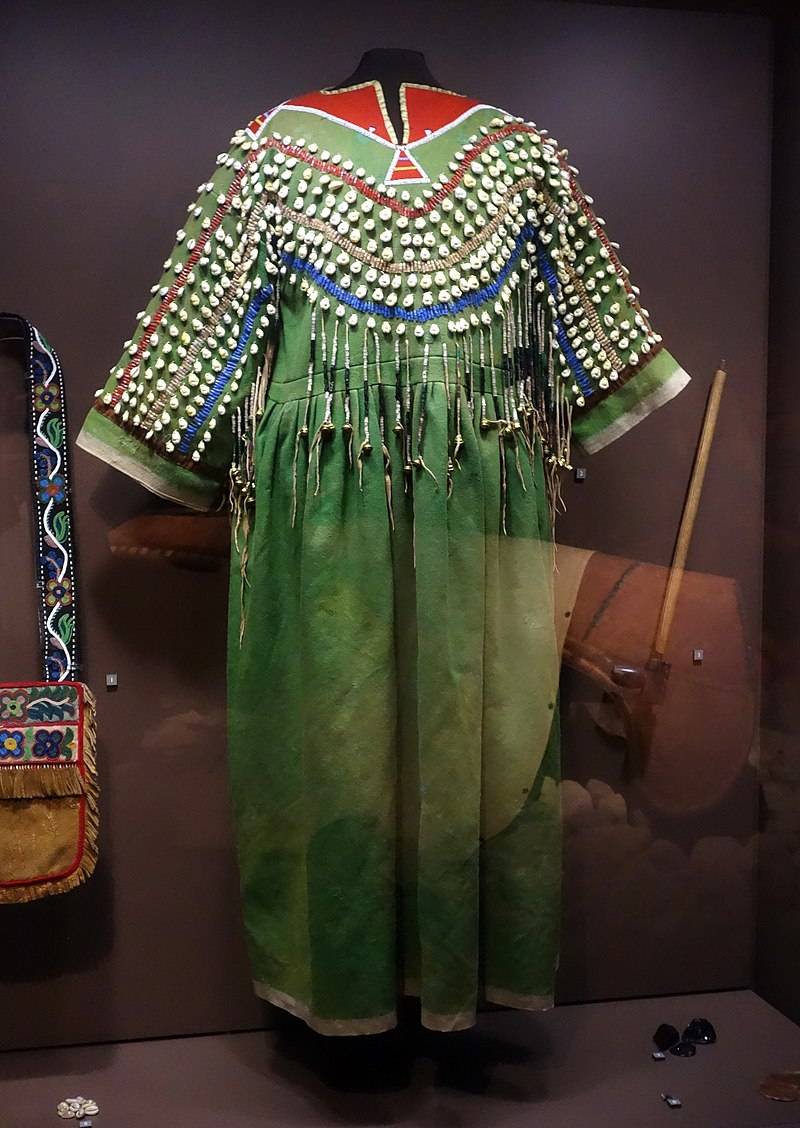 Sik-Siki. Women's dress embroidered with cowrie shells. I remember that one of our readers in his commentary on one of the previous articles "about the Indians" wrote that they did not know cowrie shells. They knew, and how they knew!
Finally, moccasins. They were sewn together from a thick leather sole and a top with a valve, which was located in the same place as the valve on European shoes. Moreover, the shape of the valves, again, varied among different tribes.
The color of the moccasins also meant a lot. For example, the Sik-Siki Indians were called "Blackfoot" precisely because they wore black-dyed moccasins. An earlier type of moccasin was made from a single piece of leather. The later one had a sewn-on sole!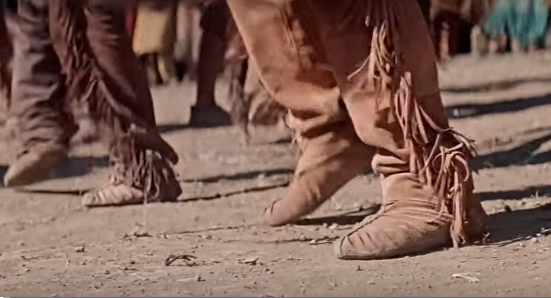 Early type moccasins made of one piece of leather: a still from the film "Trace of the Falcon" (1968)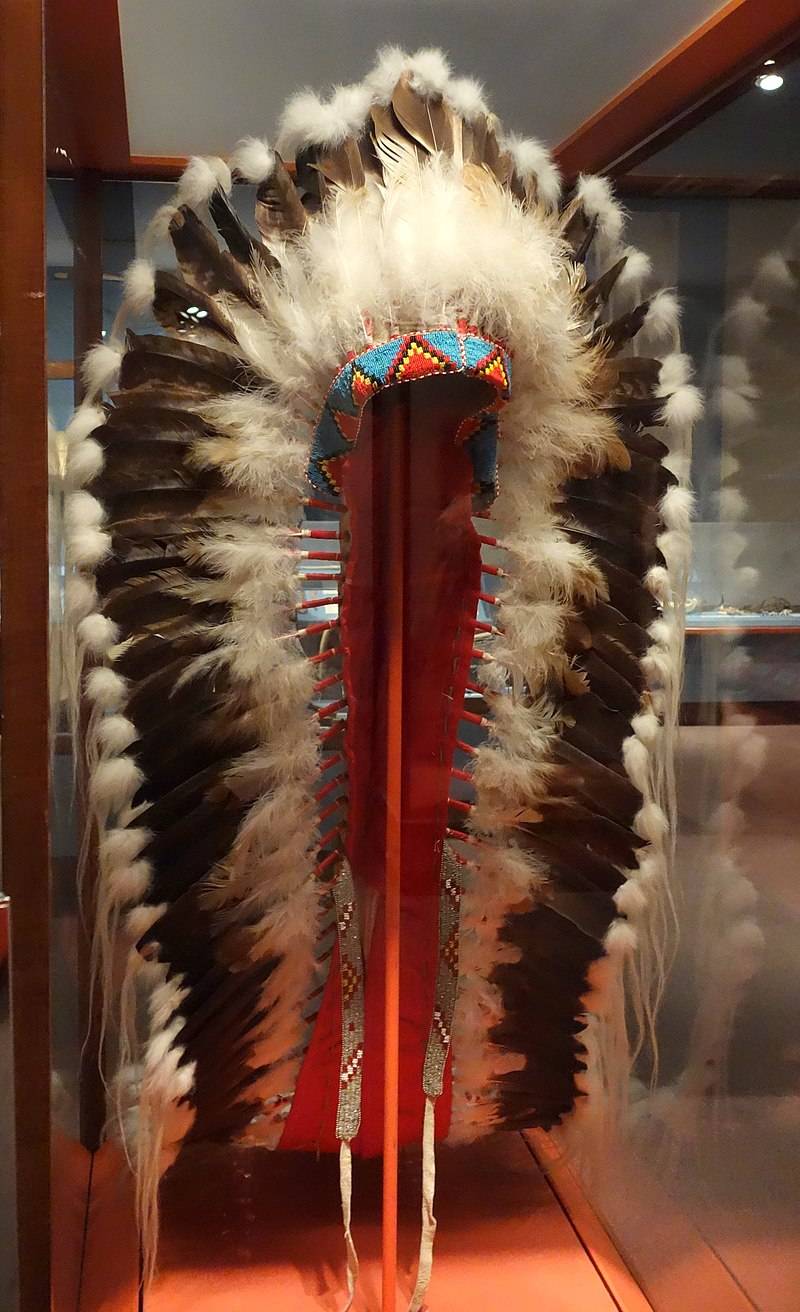 Headdress of the Seated Eagle. The Nakoda tribe. Early 1900s, front view, eagle feathers, rabbit fur, horsehair, suede, glass beads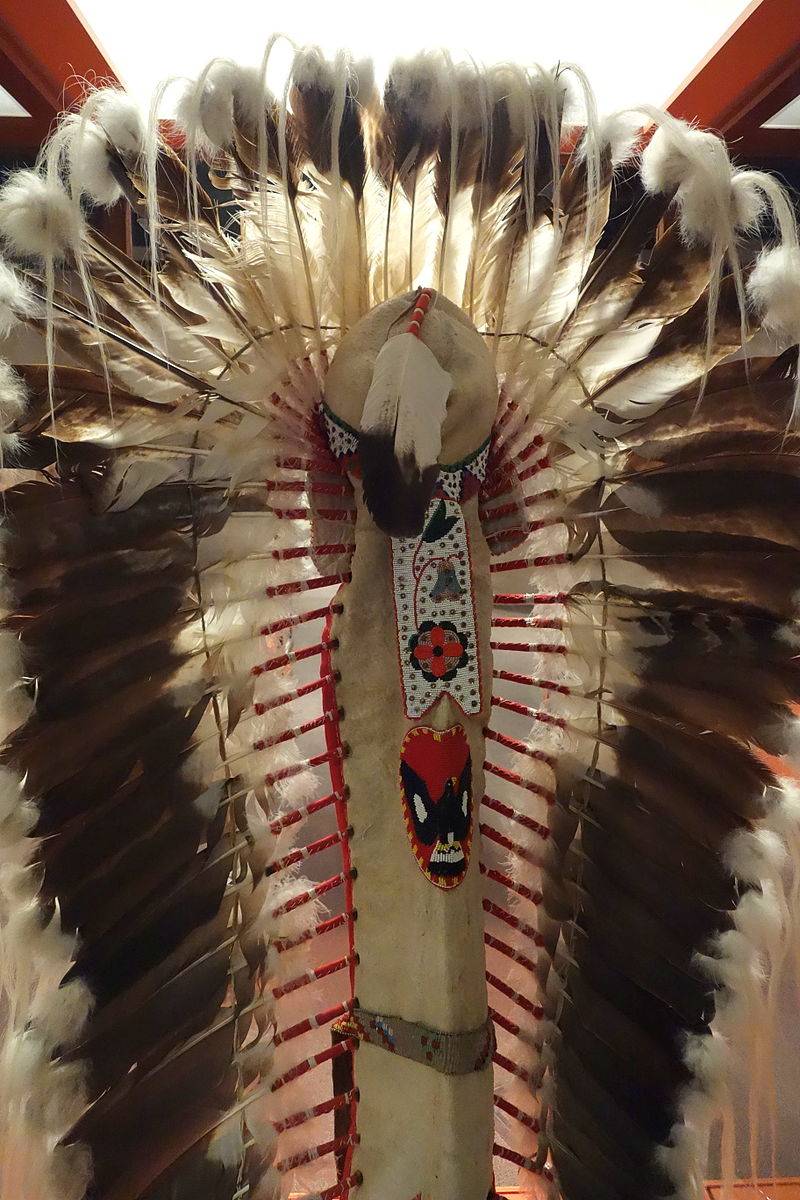 The same dress, rear view
The headdresses of the Indians in our remembrance are always associated with feathers. For example, in the novels of Fenimore Cooper, we meet Mohicans and Delawares with shaven heads with a single lock of hair on their heads, into which a single feather is woven. However, among the Prairie Indians, headdresses were much more complicated, and they did not always consist of feathers. For example, Pawnee warriors wore turbans, and their material determined their rank. Wildcat fur turbans are the highest rank, fox fur turbans are lower rank, but cloth turbans are worn by the most insignificant warriors.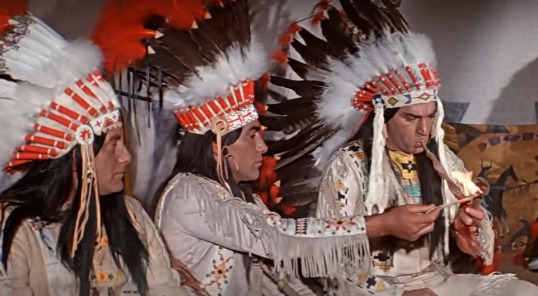 Indians in "solar" headdresses. A still from the film The Falcon's Trail (1968). They are clearly made very carefully and with skill!
As for the sumptuous feather-dresses which have become a characteristic feature of the Indians of the prairies, they were mainly of two kinds. Earlier - it was used by the Sik-Siki and the Indians of the Plateau, resembling a crown of feathers sticking up vertically. And later - "solar dress", with feathers diverging in a circle, like the sun's rays. It was in them that feathers were sewn onto a cap, to which long ribbons with feathers sewn to them were attached to the sides, descending to the very ground.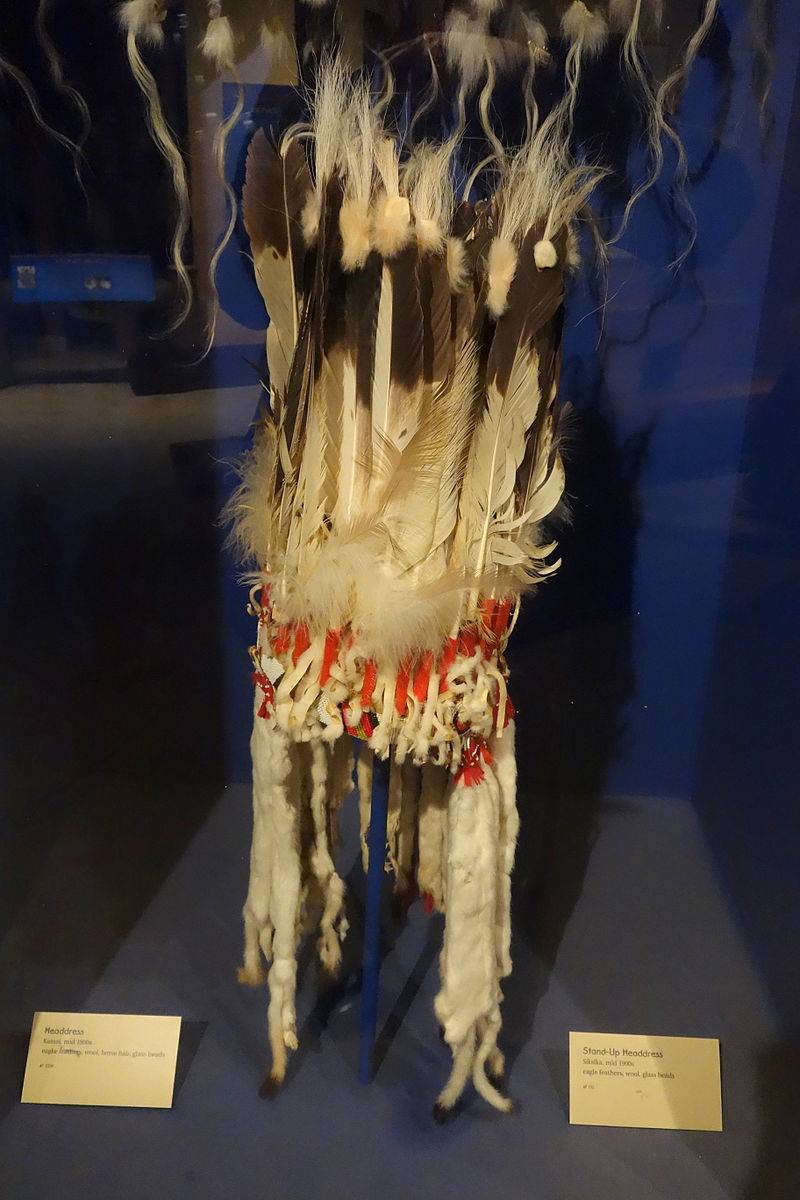 Sik-Sik headdress
In addition to eagle feathers, raven feathers (Crow Indians), swallows, as well as many different skins were used - ermine, otter, beaver. The horns of a bison, deer or antelope could also decorate the headdress. Moreover, the choice of this kind of jewelry was by no means spontaneous, but was most directly connected with protective magic. Only the men did the dressing.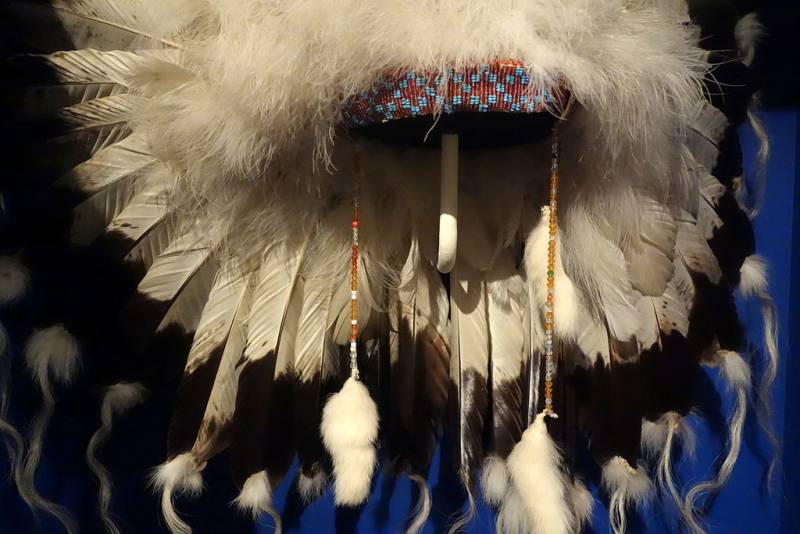 Cain Indian headdress: eagle feathers, glass beads, horsehair, suede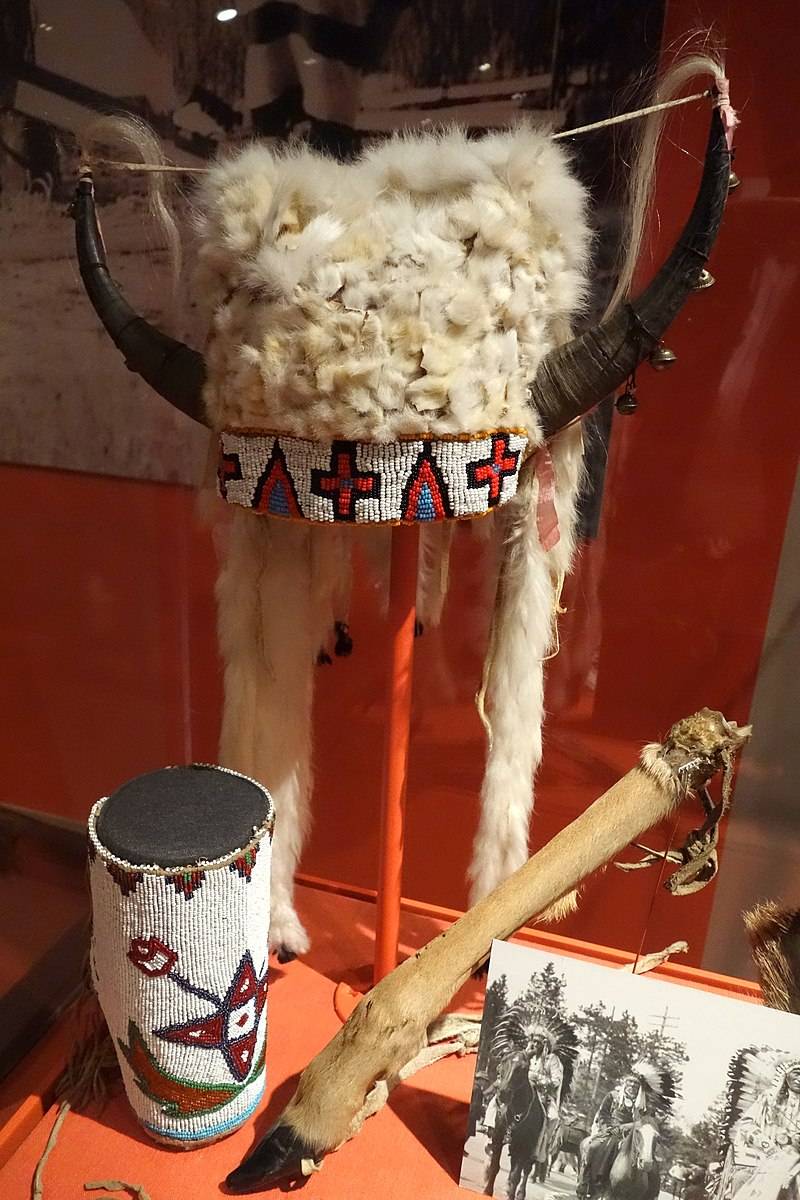 Nakoda Indian headdress. Mountain sheep horns, rabbit fur, suede
Women could only embroider patterns with beads on strips of fabric, which were then attached to the headdresses. On the feathers, signs of the military prowess of the wearer were also drawn. That is, the Indians, like the medieval knights of Europe, had their own system of signs, which made it possible to tell almost everything about this or that person. But for a knight it was a coat of arms, often of a very conditional content, which was sometimes impossible to understand without the services of a herald, while among the Indians all signs were something like an alphabet. Everyone knew them, outwardly they were simple, easy to remember and could tell absolutely everything about the person who wore them.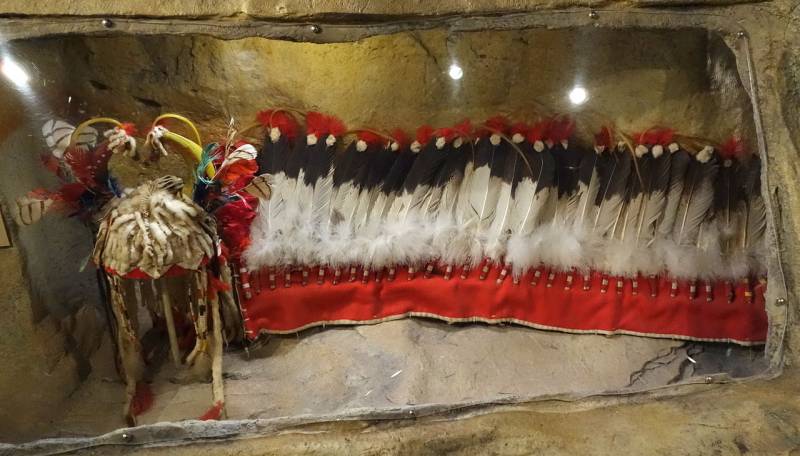 Headdress decorated with horns. Sik-Siki, mid-XNUMXth century Buckskin, weasel tails, glass beads, horse hair, copper bells, shells, porcupine quills, lynx claws, eagle feathers and down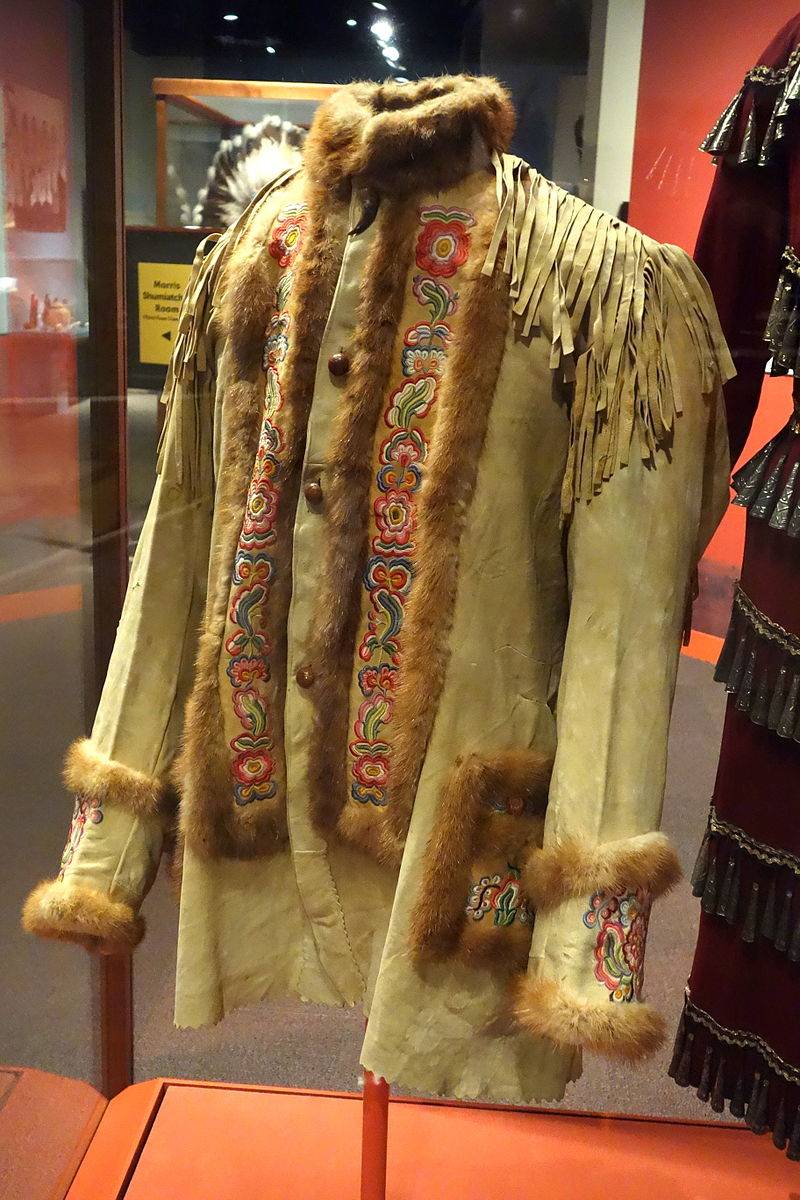 Winter jacket with fur. Cree Indians
PS
Photographs from the Glenbow Museum in Calgary, Canada were used to design the material.