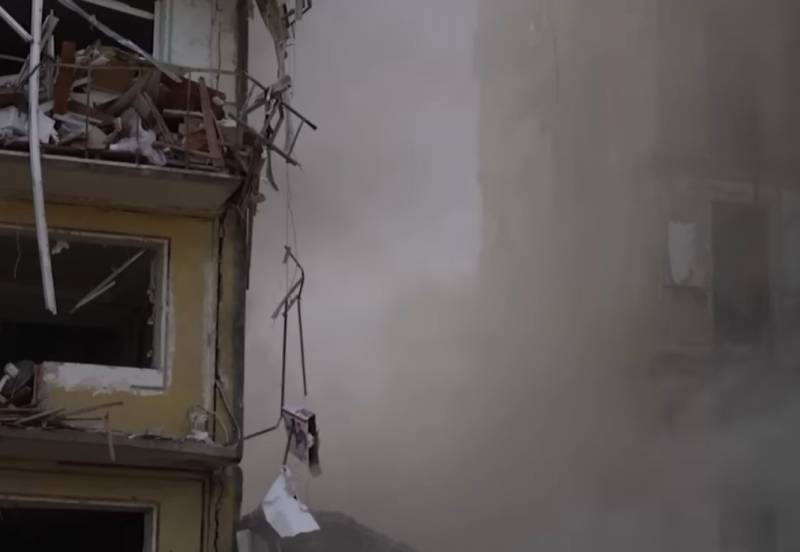 In Zaporozhye, a five-story residential building was destroyed. Apparently, the Ukrainian air defense system, while trying to intercept a Russian missile, again hit an apartment building, just as it did earlier in Dnepropetrovsk.
The Ukrainian media are reporting on the consequences of the incident.
They report that rescue work is being carried out on the ruins of the house. Also, heating points are organized for its residents, as the temperature below zero degrees is recorded on the street.
The incident happened last night at about three o'clock. Presumably, the rocket demolished part of the house, three floors out of five were damaged. There may still be people under the rubble, so rescuers have to work very carefully. There is no information about the dead yet. According to some reports, 20 people were injured.
Explosions were recorded that night in other parts of the Zaporozhye region.
From the very beginning of the special operation, reports about strikes on Zaporizhzhya objects have been received from the local administration and residents. According to the opinion of Russian expert Boris Rozhin, which he expressed earlier, this should not be surprising, especially given the presence of weapons of destruction of the Armed Forces of Ukraine in urban areas. In particular, HIMARS MLRS were seen in urban areas.
Unfortunately, today's case of a Russian missile being shot down by a Ukrainian air defense system on a residential apartment building was not the only one. In particular, a similar incident occurred in January in Dnepropetrovsk. The fact that the cause of the destruction of the house there was the work of the air defense of the Armed Forces of Ukraine was publicly admitted by the former adviser to the head of the Zelensky Office, Aleksey Arestovich, who soon after lost his post.