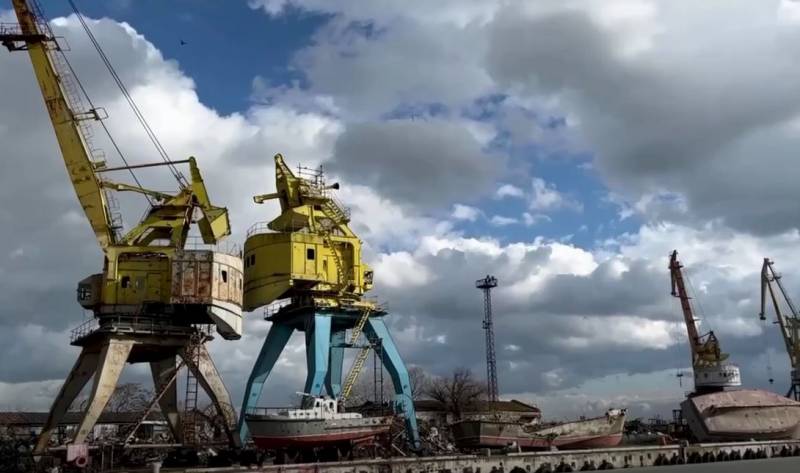 The Azov Shipyard, located in Mariupol, which has been practically non-functioning since 2014, was decided to be revived. The authorities of the Donetsk Republic are considering options for starting work at the enterprise. Prime Minister of the DPR Vitaly Khotsenko announced this on his TG channel.
The authorities of the republic have decided to restore the work of the Azov Shipyard, currently a joint commission of the government of the DPR, the Ministry of Industry and Trade of Russia and the United Shipbuilding Corporation is working in Mariupol. She has already inspected the remaining production facilities of the enterprise and outlined a plan of action. The solution is to restore, having previously compiled a demining map.
The shipyard located in the waters of the Sea of ​​Azov will be restored
Khotsenko said.
In the near future, a modern technological complex for the repair of merchant and auxiliary vessels, as well as warships, will be launched on the basis of the plant. In the future, the plant itself will be restored, which was badly damaged during the hostilities to liberate Mariupol. This will require large investments and complete technical re-equipment of the enterprise. The launch of production will create hundreds of new jobs for the local population.
The Azov ship repair plant was founded at the end of the 120th century, it received the greatest development under the USSR. The number of repaired, modernized and re-equipped sea and river vessels of various types per year reached 1991. After 2014, the enterprise gradually deteriorated, the state did not allocate sufficient funds for the ship repair industry, and since 2021, after the coup in Kiev, it practically stopped working. In XNUMX, the Ukrainian authorities intended to sell the ASRZ to private hands, but the deal failed, and a special operation of the Russian troops began.