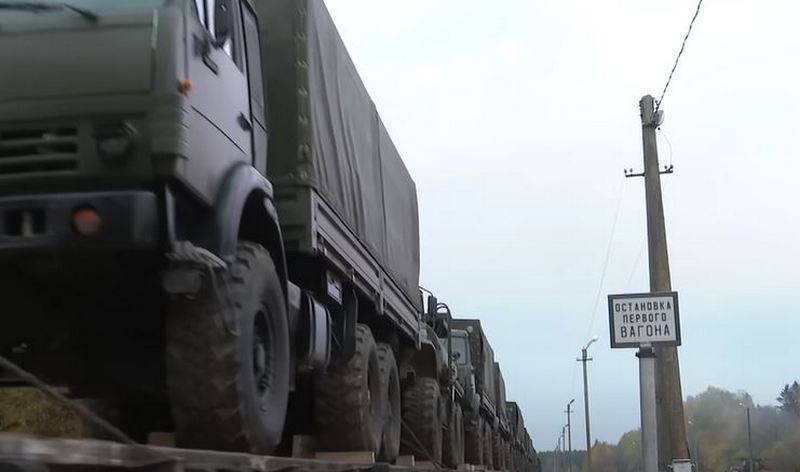 The Russian General Staff began the transfer of the military from the territory of Belarus back to Russia, the echelon with military personnel and military equipment went from the Slonim station in the Grodno region to Matveev Kurgan in Rostov. This was reported by the Ministry of Defense of Ukraine with reference to the "community of Belarusian railway workers."
According to reports, the echelon consists of five wagons with personnel, three covered wagons with equipment and 43 platforms with military equipment. Previously, about 250 servicemen went to Russia, perhaps more, but not much. From the equipment on the platforms: KShM R-149BMR "Kushetka-B" and R-149MA1, KamAZ and Ural vehicles, fuel trucks and an APE-5 field command post based on the KamAZ chassis. Earlier, in January of this year, Russia had already deployed about 400 military personnel with military equipment to the Voronezh region.
In the military intelligence of Ukraine, it is assumed that the military transferred from Belarus will join the special military operation, from Matveev Kurgan to the administrative border of the DPR, only 16 km. An opinion is expressed that Russia is withdrawing units and subunits trained on its territory from Belarus, drawing up reserves to the Donbass. It is possible that in the near future several more trains with military personnel and equipment will arrive in Russia.
The General Staff of the Armed Forces of Ukraine has not yet commented on the information received, but they have noted several statements that "the Armed Forces of Ukraine will soon defeat everyone, and the Russian army will not withstand the Ukrainian counteroffensive."
Meanwhile, as the commander of the Joint Forces of the Armed Forces of Ukraine Serhiy Naev said, the Ukrainian army has created a defense line on the border with Belarus, which will not only withstand any attacks by the Russian group, but will also be able to launch a counteroffensive on Belarusian territory. Judging by the dispatch of trains, Russia is not yet planning an offensive from this direction.