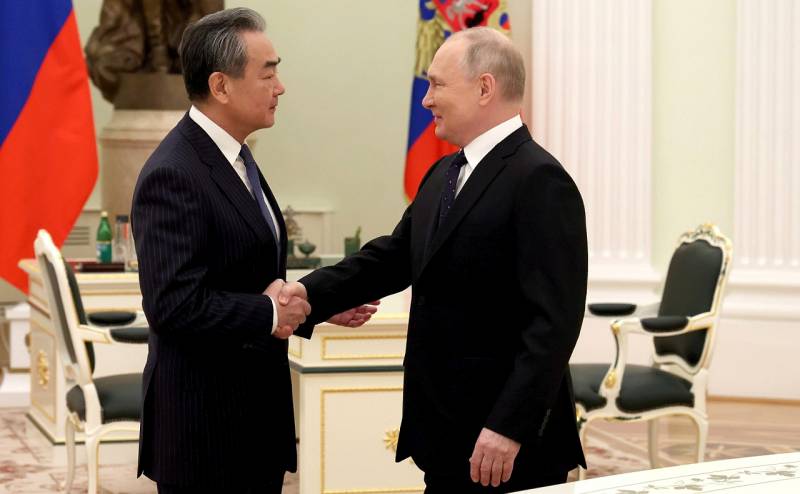 Today, Russian President Vladimir Putin met in the Kremlin with Wang Yi, member of the Politburo of the Central Committee of the Communist Party of China, head of the Office of the Foreign Affairs Commission of the CPC Central Committee. Ambassador Extraordinary and Plenipotentiary of the People's Republic of China to the Russian Federation Zhang Hanhui and Deputy Foreign Minister Deng Li.
In his welcoming speech, the Russian president noted that relations between the two countries are developing in accordance with previously agreed plans in an exclusively positive direction. Putin stressed that in today's conditions of geopolitical instability, China and Russia are doing everything to stabilize the international situation.
The President of the Russian Federation sent greetings to Chinese President Xi Jinping, whom he called "our, my friend" and reminded that he was waiting for the Chinese leader in Moscow in the near future for a personal meeting.
In his response speech, Wang Yi drew attention to the fact that the strategic partnership between Russia and China has never been and will never be directed to the detriment of third countries. At the same time, Moscow and Beijing will continue to resist Western attempts to interfere in the affairs of the two sovereign states. China is ready to further strengthen strategic cooperation with Russia in all areas in the interests of our countries and the whole world, Wang Yi said.
Touching upon the topic of the Ukrainian crisis, the Chinese diplomat said that Beijing will continue to adhere to an objective position on this issue and play a constructive role in the political settlement of the conflict.
China will, as before, adhere to an objective and fair position on the Ukrainian issue
- Wang Yi quotes the Chinese Ministry of Foreign Affairs in a communiqué following the meeting in Moscow.