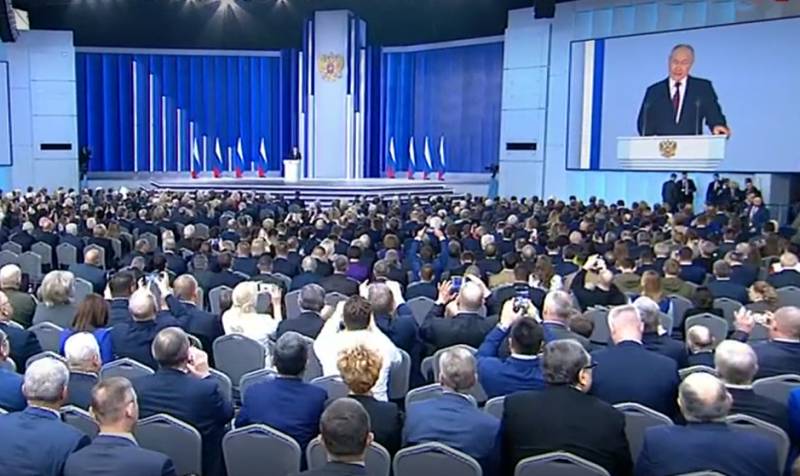 The address of the President of Russia to the Federal Assembly of the Russian Federation began. The President began by reminding him of the reason for the start of the special military operation.
We wanted to peacefully resolve everything that was taking shape in Ukraine. But a completely different scenario was being prepared behind our backs. Western authorities carried out chicanery. The US and NATO deployed military bases near our borders.
According to Vladimir Putin, Western countries revel in their perfidy and openly declare that they were not going to comply with the Minsk agreements.
Vladimir Putin recalled that the Western elites have become a symbol of total, unprincipled lies. This manifested itself in relation to Yugoslavia, Iraq, Libya, Syria.
Putin:
For many years we have been proposing to the West to create a single, indivisible security system. And all this time, military infrastructure was brought to our borders, missile defense position areas were created. They made it clear that they were not going to talk to us.
Putin:
The entire planet is littered with US military bases. There are hundreds of these bases.
Returning to the topic of Donbass, Vladimir Putin:
It was they (the West) who started the war, and we use force to stop it. Those who planned a new attack on the Donbass understood that the next target was Crimea and Sevastopol. And today they themselves speak directly about it. They themselves admit that we have known for so long.
Vladimir Putin noted that the goal of the West is to rob everyone endlessly, suppress dissent in their countries, and divert attention from corruption scandals.
Putin:
After all, trillions are at stake for them.
According to Putin, both in the 30s and today, the idea was the same: to send forces to the east. Today, the West has occupied Ukraine, which has led to an increase in poverty and inequality. People were prepared for the slaughter and turned into consumables.
The more long-range missiles will be delivered to Ukraine, the further we will push the threat away from our borders.