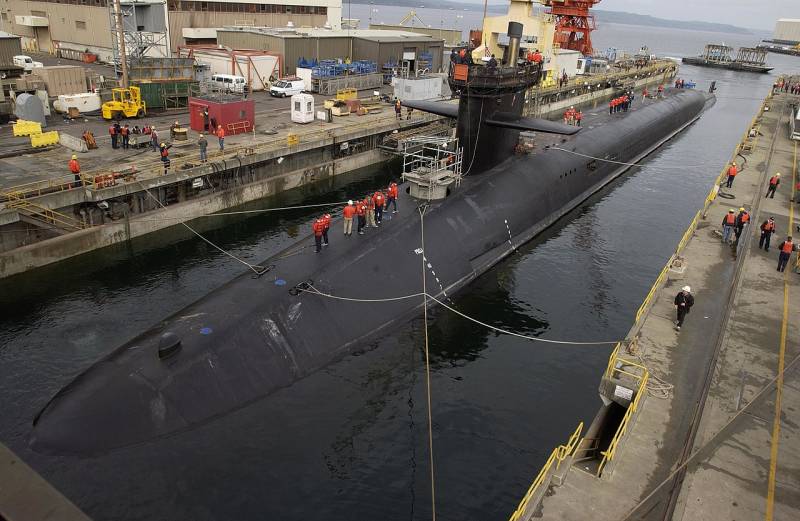 Currently, the US Navy has begun repair work at two dry docks for submarines in Washington State, in Puget Sound. Previously, the docks were closed for repairs due to earthquake risks.
According to the American press, in late January, the command closed four dry docks - three docks at the Puget Sound Naval Shipyard, Washington, and a dock at the Trident Refit Facility in Bangor. Up to $80 million has been allocated for repairs. Now construction materials have already begun to be delivered to naval facilities.
The US Navy says it is ready to start work on the fourth drydock in Puget Sound. The work itself is planned to be completed by the end of March 2023, and the entire project by May 2023. Recall that it is in these docks that the US Navy nuclear submarines serve.
USNI News reports that the concern of the Navy command is the risk of dry docks collapsing in the event of an earthquake or tsunami. If this happened, then submarines docked for maintenance or repair would also be damaged. Work to strengthen the docks is designed to reduce the risk of destruction in the event of natural disasters.
Recall that all four dry docks have been operating for several decades. But when the US Navy experts assessed the condition of the docks, certain risks and shortcomings were revealed. After that, the US Secretary of the Navy Carlos del Toro decided to start repair work at the docks.
Issues were identified that required our attention in terms of mitigating the effects of a major earthquake
- said the US Secretary of the Navy Carlos del Toro.
The minister also recalled that Puget Sound is one of the regions with high seismic activity. Therefore, the risk of an earthquake here is quite high.
Minister Links Dry Dock Repairs to Larger U.S. Navy Project to Upgrade Facilities Maintenance Infrastructure
fleet
and the US Marine Corps. But much will depend on the amount of investment by the government.