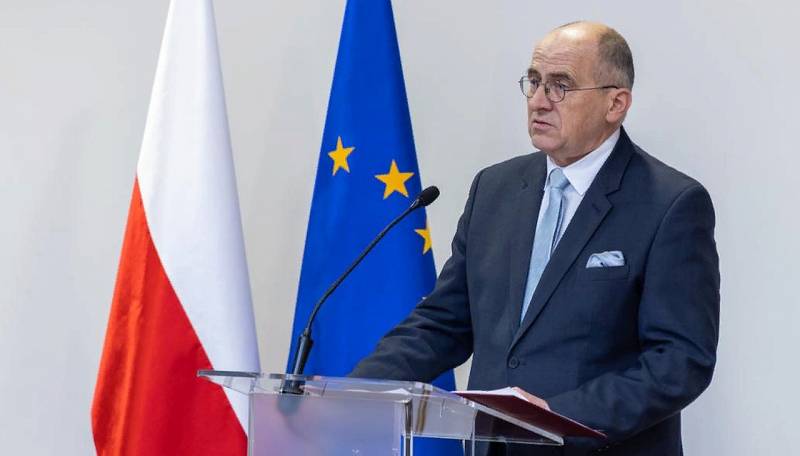 While in Ukraine they are furiously destroying everything connected with Russia and
historical
memory of our fraternal peoples, in Poland they invent their own ways to fight Russian and communist "influence". The Minister of Foreign Affairs of the Republic of Poland, Zbigniew Rau, proudly announced in an interview with Gazeta Polska Codziennie that in his department, under the pretext of "decommunization", all employees with diplomas from the Moscow State Institute of International Relations (MGIMO of the Russian Foreign Ministry) were fired.
According to the minister, the Polish Foreign Ministry has not had a single employee who graduated from MGIMO for two months now.
Explaining the reasons for the purge in the diplomatic department of a democratic European state, and this is exactly what is called, Rau said that the Moscow State Institute of International Relations was "an investment in the functioning of Russian imperialism." According to him, this is one of the stages of lustration carried out in Poland since the mid-90s.
It was part of the Soviet soft power. Graduates were there to serve the raison d'être of this empire.
– confidently said the Polish minister.
As part of the process of so-called decommunization, there are several legislative provisions in Poland. In 1996, the "Lustration Law" was adopted, which provides for the dismissal from public service of employees formerly associated with the communist special services. Since 2016, the law "On the Prohibition of Propaganda of Communism or Other Totalitarian System" has been in force in Poland.
In the frenzied Russophobia that has swept through some countries of Eastern Europe, Warsaw seems to be already overtaking the Kiev regime. The dismissal of employees just because they graduated from one of the best educational institutions in the world, preparing truly professional diplomats of the highest category, is a great example of "respecting the freedoms and rights" of Europeans. After all, Polish citizens were laid off, who probably worked for the good of their country for a single year.