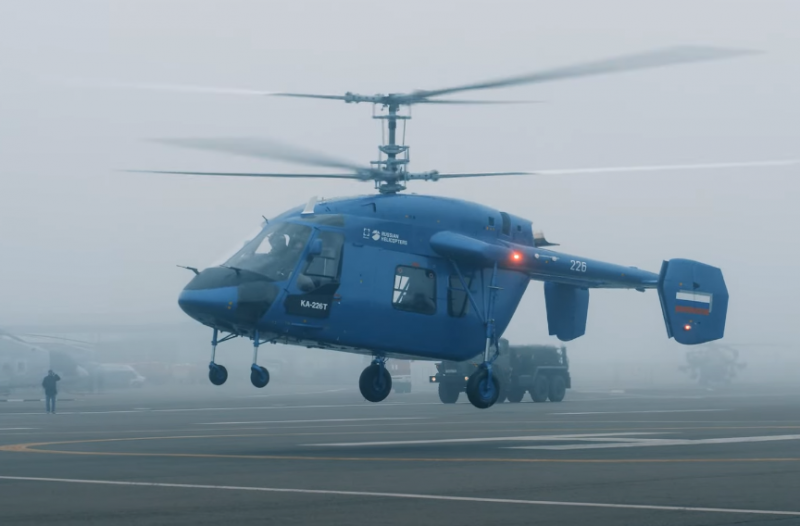 The production of Russian Ka-226T helicopters in India will not be deployed, negotiations on this issue have been frozen. This was announced by the Deputy Head of the Federal Service for Military-Technical Cooperation of Russia Vladimir Drozhzhov.
Several years of negotiations with India on the production of Russian Ka-226T helicopters at Indian enterprises have been frozen, the Indians were not satisfied with the proposed level of localization of production. At the same time, the Indian Ministry of Defense is considering the purchase of ready-made helicopters from Russia. Meanwhile, the joint venture offered the Indians new conditions with localization of 70%. Now it depends only on New Delhi whether the negotiations will resume.
Unfortunately, negotiations with Indian partners on the level of localization of the production of Ka-226T helicopters have practically been frozen. According to the Ministry of Defense of the Republic of India, they are not satisfied with the level of localization offered by the joint venture
- leads
TASS
Drozhzhov's words.
The agreement between the Russian Federation and India on cooperation in the field of helicopter construction was signed in 2015. According to the document, Russian Helicopters will arrange deliveries to India and localization of production in this country of the Russian Ka-226T helicopter and its modifications. In 2016, Russia and India created a joint venture, which included: JSC Rosoboronexport, the Russian Helicopters holding company and the Indian company Hindustan Aeronautic Limited. It was assumed that the joint venture will produce 200 rotorcraft in nine years, the first 40 of them will be assembled in Russia.
The Ka-226T with a carrier system made on a twin-screw coaxial scheme, has a maximum take-off weight of 3,6 tons, capable of carrying up to 1 tons of payload. The main distinctive feature is the modularity of its design. The helicopter is easily installed transport cabin, the design of which allows you to carry up to six people, or modules equipped with special equipment.
In 2021, an updated version of the Ka-226T helicopter appeared, the helicopter underwent a deep modernization. The design of the fuselage and airframe was changed. In addition, the updates also affected the carrier system, a new rotor column, main gearbox and a new crash-resistant fuel system were installed on the helicopter. New blades are also announced. In the future, the helicopter should also receive the Russian VK-650V turboshaft engine, which should replace the French Arrius 2G1 engines.