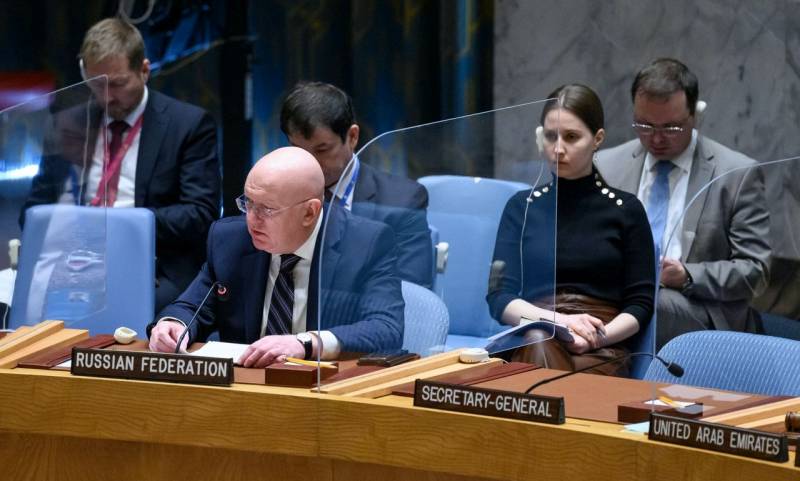 Permanent Representative of the Russian Federation to the UN Vasily Nebenzya again explained to the world community the steadfastness of achieving the main goals and objectives of the special military operation.
Speaking at a meeting of the Security Council, a Russian high-ranking diplomat said that Russia would do everything so that Ukraine would never again threaten our country, our allies, Russian culture and the Russian language.
Never again will there be glorification of Hitler's accomplices who killed hundreds of thousands of Jews, Russians, Poles and Ukrainians. And this should be the basis for agreements. And the so-called "Zelensky formula" is just a mockery of the concept of a peace plan.
- said the Russian envoy.
Last December, also speaking at a meeting of the UN Security Council, Nebenzya warned the Kyiv authorities and Western countries supporting the Zelensky regime that if the threat to our country coming from Ukraine cannot be eliminated by the world, Russia will do it militarily.
The Permanent Representative of the Russian Federation recalled that the West had been cultivating the Nazi regime in Ukraine for eight years, turning a blind eye to its crimes against its own people, in the hope of one day bringing down the state that had become openly anti-Russian against Russia. According to him, the West was terribly angry with the anticipatory actions of Moscow, which launched a special operation to protect the inhabitants of Donbass and anticipated the invasion of the Armed Forces of Ukraine into the territory of our country.
Hence the bitterness of their criticism of our country, which frustrates their aggressive plans.
Nebenzya explained the real motives of Western politicians.
According to him, the West and Zelensky's puppet regime, which intended to defeat Russia on the battlefield, bears full responsibility for the suffering and death of civilians.