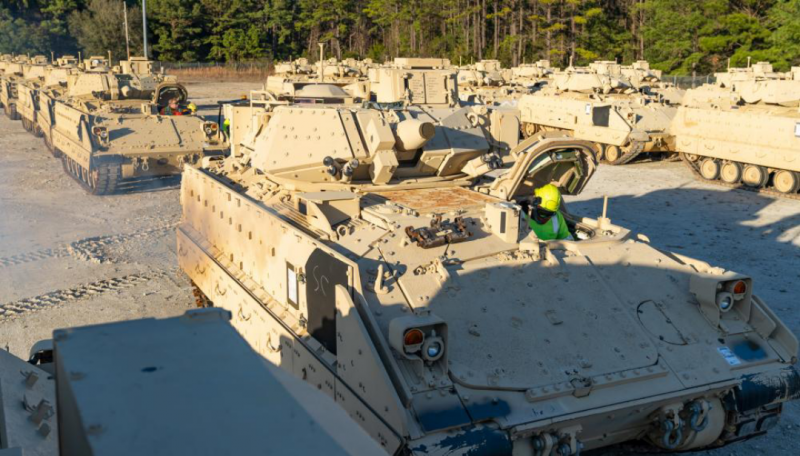 The United States sent another batch of armored vehicles to Ukraine, Bradley infantry fighting vehicles will be delivered to Europe by sea. This was reported by the press service of the US Transportation Administration, which is engaged in transportation in the interests of the US armed forces.
A batch of over 60 infantry fighting vehicles was loaded on board a transport ship in the port of Charleston in North Carolina. The ship will proceed to Europe, where the port, most likely the Netherlands, will be unloaded. Further, the equipment will be delivered by rail to the territory of Poland, and from there to Ukraine. Deadlines have not yet been announced.
Soldiers load a batch of American infantry fighting vehicles onto a ship in the port of Charleston, North Carolina. The shipments of this military hardware are part of a $2,85 billion US military aid deal that was announced earlier this year.
- Reported the press service.
Judging by the photo, all the equipment is delivered unarmed, the BMP lacks M242 Bushmaster 25 mm automatic cannons, a coaxial 7,62 mm machine gun and TOW anti-tank missiles. Most likely, weapons will be installed before sending armored vehicles directly to Ukraine.
Earlier, the Pentagon said that all the Bradley infantry fighting vehicles promised to Kyiv would be delivered to Ukraine in the "near future." In the meantime, although the equipment has not yet arrived, the Armed Forces of Ukraine have already begun to form units for it, at the same time, crews are being trained on American infantry fighting vehicles in Germany. Training began at the combined arms training base at Grafenwöhr in Bavaria.