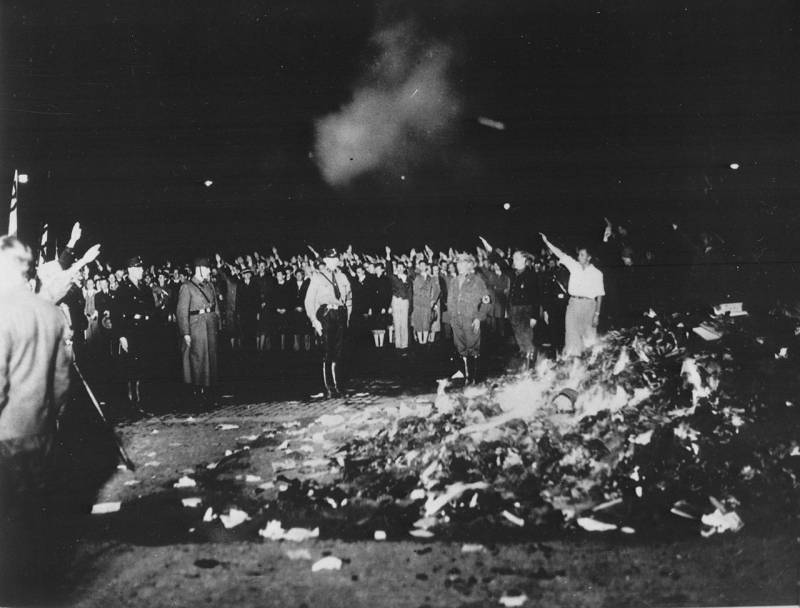 Nazi book burning in the Third Reich
The official representative of the Russian Foreign Ministry, Maria Zakharova, commented on her Telegram channel yesterday's decision by the Canadian government to impose sanctions against a number of Russian journalists and artists.
Zakharova recalled the policy of Nazi Germany to combat dissent and compared the actions of the Canadian authorities with the policy of the Third Reich, which tried to drown out the voice of reason by destroying books and banning periodicals.
With the advent of Hitler to power in Germany in 1933, a struggle began with ideas that did not correspond to the spirit of German National Socialism. One of the demonstration actions in this direction was the burning of "hostile" books. So, on May 10, 1933, more than 25 thousand volumes of books with a "non-German spirit" were burned in Berlin.
Canada's latest anti-Russian sanctions are comparable to an attempt by the Third Reich to destroy the "non-German spirit" and drown out the voice of reason through the burning of books and the ban on periodicals.
- Zakharova wrote in the Telegram channel.
The Russian diplomat also added that Deputy Prime Minister of the Canadian government Chrystia Freeland is worthy of her grandfather, an accomplice of Nazi Germany Mikhailo Khomyak.
For reference: at one time, the nationalist Mikhailo Khomyak was a member of the circle of people ruled by Emil Gassner, a Nazi propagandist who headed the Nazi press department in occupied Poland. He took an active part in activities to justify the extermination of Polish Jews.
Recall that yesterday Ottawa announced the imposition of sanctions against more than 50 Russian individuals and legal entities. The list also included such popular Russian artists as Nikolai Baskov, Nadezhda Babkina, Polina Gagarina, Oleg Gazmanov and others.