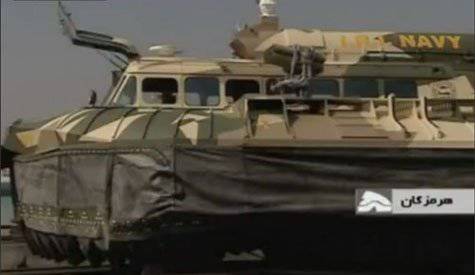 On Monday, Iran showed the general public a new warship erected in the IRI, and Iranian Defense Minister Ahmad Vahidi was present at the presentation of the novelty, the local Fars News agency reported.
The vessel called "Tondar" ("Thunderbolt") will be produced in two versions - for solving military transport problems and for combat operations.
The ship will carry a variety of weapons - missiles, guns and even unmanned aerial vehicles.
"Tondar" can be used as a patrol ship, as a commander ship, for reconnaissance, combat and amphibious operations, as well as a medical and sanitary vessel for search and rescue operations, "quotes the words of Vahidi RIA"
News
».
In recent years, Iran has been working on the creation of a number of new weapons systems, while paying particular attention to ballistic missiles and UAVs.
In October, Tehran announced the imminent presentation of a new sea-based Kadir cruise missile.
However, Western media reported that the Islamic Revolution Guards Corps (IRGC), headed by Commander Mohammad Ali Jafari, allegedly developed a plan for organizing an environmental disaster in the Strait of Hormuz, which is supposedly necessary for Iran to temporarily lift international sanctions.
Meanwhile, on October 11, the United States aircraft carrier strike group, led by the nuclear-powered aircraft carrier John Stennis, entered the area of ​​responsibility of the Fifth Operational
fleet
US Navy.
The responsibility of the Fifth Fleet includes the Persian Gulf, the Arabian and Red Seas, and the Gulf of Aden. According to the US Navy, there are currently three American aircraft carriers in this region, including the Eisenhower, which is on alert on the coast of Pakistan, is involved in providing air support to NATO forces in Afghanistan, and Enterprise, which is located in Gulf of Aden.
According to the Pentagon, the aircraft carrier strike group of the aircraft carrier "John Stennis" includes a missile cruiser, four destroyers and an atomic nuclear submarine.