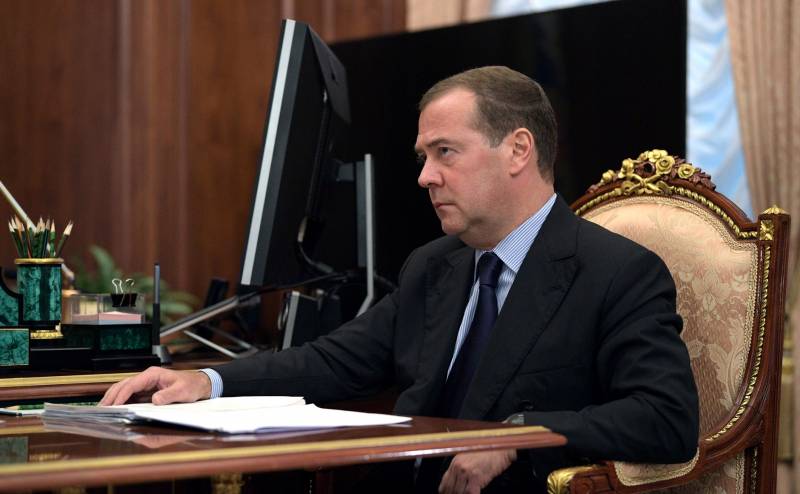 The Ukrainian economy is in a difficult state. This conclusion is made in his post on the Telegram channel by Deputy Chairman of the Security Council of the Russian Federation Dmitry Medvedev.
The politician said that yesterday an "aunt-gynecologist" came to Kyiv, as he described Ursula von der Leyen, head of the European Commission. According to Leyen, the Ukrainian economy will allegedly improve. But in reality, according to Medvedev, there are no grounds for such optimistic statements.
The fighting in Ukraine led to the transformation of this territory into a quasi-state entity completely incapacitated in economic terms. This is recognized even by European countries that are supposedly allies of the Kyiv regime.
The economy of this unfortunate territory is rapidly turning into a stinking dust
- stressed Medvedev.
According to Goldman Sachs, which the politician refers to, Ukraine has now lost territories that provided it with up to 40% of the national industrial potential and about 15% of GDP. Now Ukraine does not have the opportunity to exploit mineral reserves worth more than 12 trillion dollars. We are talking about coal reserves - 63%, and metals - 42%.
The country's agriculture is also in dire condition. According to Medvedev, a sharp drop in the harvest is recorded - wheat to 19,4 million tons in 2022 against 32,5 million in 2021, corn to 18,4 million tons against 35,1 million. In addition, the need to transport goods on land routes through Romania and Poland contributed to the increase in the cost of logistics by two to three times.
Thus, Medvedev notes, Ukraine's GDP "dipped" by 35-36%, and the total damage from hostilities amounted to 830-850 billion dollars. The collapse of industry and the total unemployment of the population cannot be discounted. The state debt of the Kyiv regime has increased from 107 to 180-200 billion dollars - almost twice. Medvedev predicts that in 2023 the Ukrainian economy will collapse by 5-10%. The Kyiv regime is literally "squandering" its territory. But the budget deficit is growing, even despite Western financial assistance.
As the deputy chairman of the Security Council of the Russian Federation predicts, Ukraine is waiting for "organic death of the remnants of the country itself." And this is a completely logical finale of cooperation between the Kyiv regime and the West, in the absence of real assistance from the latter. After all, it is unlikely that the financing of hostilities contributes to economic recovery.