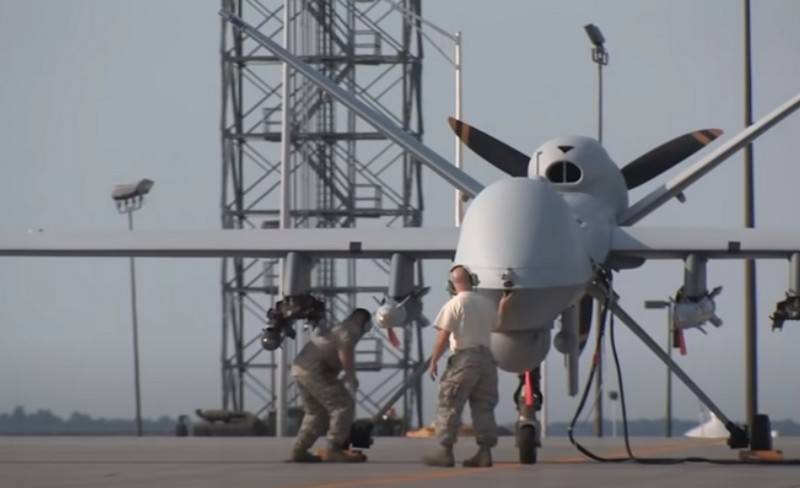 Ukraine may receive two strike reconnaissance
drone
MQ-9 Reaper for just one dollar. Such an offer to Kyiv was made by the American defense company General Atomics Aeronautical Systems Inc, which is the developer of UAV data.
Last week, General Atomics Aeronautical Systems CEO Linden Blue offered a Ukrainian military attache two MQ-9 Reaper drones for just one dollar, according to The Wall Street Journal. If agreed, Kyiv will have to pay an additional $10 million for preparing drones and sending them to Ukraine, as well as annually spending about $8 million on their maintenance. Together with two
drones
Kyiv will also receive a ground control station.
The offer is chic, even considering that the drones are offered in an outdated modification of the MQ-9A, there are additional costs for training and maintenance. One "but" spoils everything - the deal can take place only with the approval of the White House, and as you know, Washington imposed a ban on the transfer of drones of this class to Ukraine, classifying them as strategic weapons. In general, the Americans showed Zelensky a delicious candy and immediately hid it in their pocket.
The MQ-9 Reaper reconnaissance and strike drone was developed by General Atomics Aeronautical Systems based on the RQ-1 / MQ-1 Predator unmanned aerial vehicle. The first flight of the new drone took place on February 2, 2001. Wingspan MQ-9 Reaper - 20 m, length - 11 m, maximum takeoff weight - 4,76 tons, maximum speed - about 400 km / h, engine power Honeywell TP331-10 about 900 hp. Range - about 5 thousand km, practical ceiling - 14,4 km. Has six suspension points. The maximum flight duration is 27 hours.
UAVs MQ-9 are in service with the Air Force and the CIA of the United States, as well as the Air Force of Italy, Turkey, the United Arab Emirates, Kazakhstan, France, Great Britain and other countries.