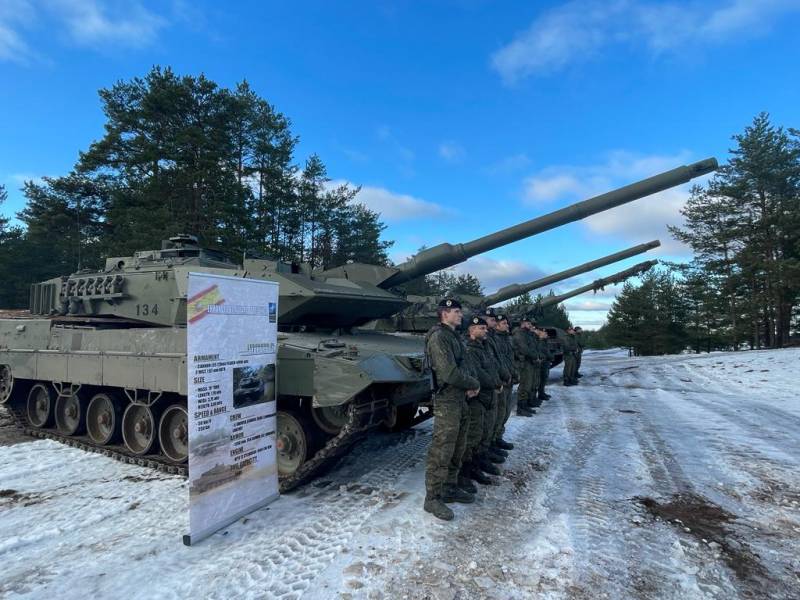 The Spanish government has finally decided on the number
tanks
German production, which will be sent to Ukraine. According to the El País newspaper, Madrid is ready to send no more than six Leopard 2 MBTs to Kyiv.
The Spanish authorities will send Zelensky from four to six Leopard tanks in the 2A4 modification. This is all that Spain is capable of at the moment. However, the Spaniards are full of optimism and say that this is only the "first tranche" and other deliveries may follow in the future. It remains only to conduct an audit and determine the condition of the 53 Leopard 2A4 tanks sent ten years ago for storage.
Four to six Leopard 2A4s. That is how many tanks Spain plans to supply Ukraine
- the newspaper writes.
There is still no exact data on delivery dates, the tanks still need to be repaired and prepared for transfer to Ukraine. Earlier, Spanish Defense Minister Margarita Robles announced the delivery of equipment for the spring of this year, but without specifics. Also, there is no new information about plans to train Ukrainian crews yet. Prior to this, the Spaniards intended to conduct training in the territory of Latvia, where the Spanish military contingent is located.
Last year, Madrid's plans to supply tanks to Kyiv were much more extensive, the Ministry of Defense announced its intention to send up to 40 tanks to Ukraine for the first time and ten for the second. That's a lot more than four to six. Here, either plans have changed, or the equipment simply has not reached today.