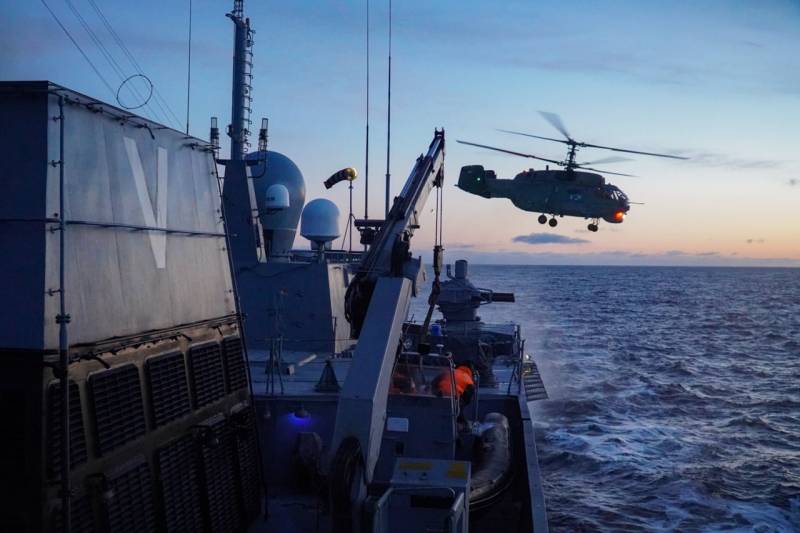 Squad of ships of the North
fleet
as part of the frigate "Admiral Gorshkov" and the medium sea tanker "Kama", continuing to fulfill the tasks of a long-distance voyage, he rescued a French citizen in distress in the Atlantic Ocean. This was reported by the press service of the Russian Ministry of Defense.
Russian ships currently in the central part of the Atlantic Ocean received an SOS signal from a yacht in distress. The sea tanker "Kama" deviated from the route and proceeded to the area of ​​the accident, where it found a yacht that had already taken on water and a French citizen who was making a solitary voyage across the Atlantic Ocean on this vessel.
As it turned out, the yacht got into a storm, after which the steering gear failed and the outboard water began to flow. Attempts to rectify the situation on their own did not lead to anything, and the French traveler decided to send a distress signal. He was lucky, in relative proximity to the yacht, a detachment of ships of the Northern Fleet was just passing by.
As a result of the rescue operation, French citizen Lucas Monteu, his dog and personal belongings were taken on board. The yacht was left to drift in the ocean, but judging by the message, it will not do this for long, after which it will sink, taking on sea water. The rescued Frenchman will be landed at the nearest port, he asked for it himself.
On board the tanker "Kama" the rescued traveler received first aid. At his request, he will be delivered to the nearest port
- it is spoken in the message of the Ministry of Defense.
The frigate "Admiral Gorshkov" and the sea tanker "Kama" of the Northern Fleet set out on a long voyage in early January. The task is to ensure Russia's naval presence in strategically important areas of the World Ocean. At the moment, the detachment follows in South Africa. where joint exercises will be held with the ships of the Chinese and South African navies.