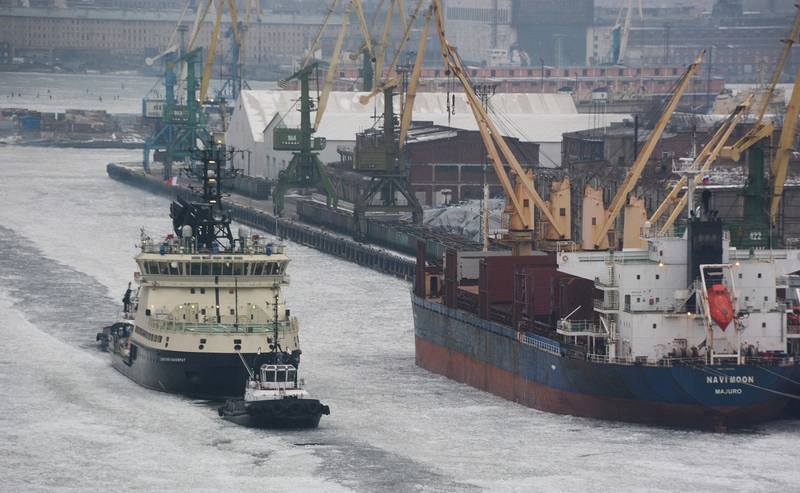 Built in the interests of the Ministry of Defense, the newest icebreaker "Evpatiy Kolovrat" of project 21180M began an inter-fleet transition to the place of permanent deployment. The icebreaker left St. Petersburg and began moving towards Kamchatka. This was reported by the press service of the military department.
"Evpaty Kolovrat" will make an inter-fleet transition to Petropavlovsk-Kamchatsky, where it will serve as part of a detachment of ships providing troops and forces in the North-East of Russia. The crew for the icebreaker was formed in Kamchatka. The icebreaker will go there by the "southern route", i.e. through the Mediterranean and the Indian Ocean, and not through the Northern Sea Route, as was supposed.
At the end of December last year, it was reported that the icebreaker entered state trials, but there were no reports of their completion and acceptance of the vessel into the Russian Navy. It is possible that the official ceremony will take place in Petropavlovsk-Kamchatsky after the icebreaker arrives at its permanent base.
"Evpatiy Kolovrat" was laid down at the Almaz shipbuilding company in December 2018, launched on November 20, 2020. After completion in August 2022, he was transferred to the Baltiysky Zavod to install the mast. Project 21180M, according to which it was built, is a further development of project 21180 with the only icebreaker Ilya Muromets. Unlike the base icebreaker, the new one is a "lighter version" with a shallower draft, allowing it to operate in shallow waters.
Full displacement - 4080 tons, hull length - 82 meters, width - 19 meters, draft - 4,6 meters. Speed ​​- up to 14 knots, cruising range - 7600 miles, autonomy - 30 days. Crew - 28 people. There is a platform for a helicopter. The icebreaker is capable of breaking ice up to 1 meter thick at a speed of 2 knots. The ship is designed to provide basing and deployment of forces
fleet
in ice conditions, independent pilotage of ships and vessels, as well as their towing support in ice conditions.