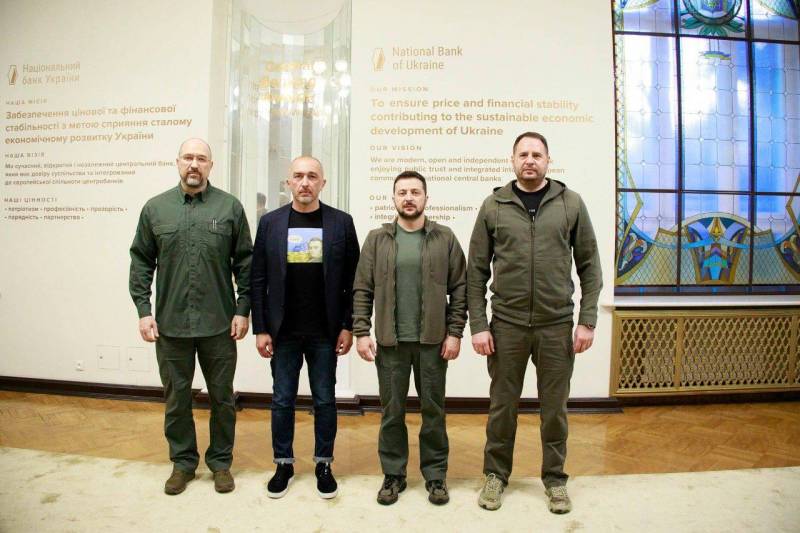 A number of personnel changes are planned in the Ukrainian power structures. It is noted that the deputy head of the Office of the President of Ukraine Kyrylo Timoshenko has been dismissed (VO has already reported about this), as well as the "governors" - the heads of four regional military administrations - Dnepropetrovsk, Sumy, Kherson and Zaporozhye. Recall that the Kyiv regime continues to consider the Kherson and Zaporozhye regions of Russia as its territory.
The media reported on the likely resignation of three ministers of the Ukrainian government - Ryabikin (Minister for Strategic Industries), Galushchenko (Minister of Energy) and Gutzeit (Minister of Sports).
The press of Ukraine notes that, despite the recent corruption scandal involving Defense Minister Reznikov, he remains in his place, as the parliament and the Servant of the People party stood up for him.
Earlier, Aleksey Arestovich, an adviser in Zelensky's office, lost his position.
In addition, there is unconfirmed information about the possible resignation of the head of the Ukrainian government, Shmyhal, who was closely associated with one of the deputy ministers suspected of corruption. We are talking about contracts for food products for the army, in which most of the goods were purchased at a much higher price from a company with an authorized capital of 1000 hryvnias.
It should also be noted that now a number of categories of Ukrainian citizens will not be able to travel abroad if it is not on duty, as the President of Ukraine issued a decree on this matter.
According to the decree, people's deputies, ministers and their deputies, heads of services created by the president, heads of the SBU and NBU and their deputies, the ombudsman and his representatives, prosecutors, judges, heads of all local authorities and many others fell under the category of travel restrictions.