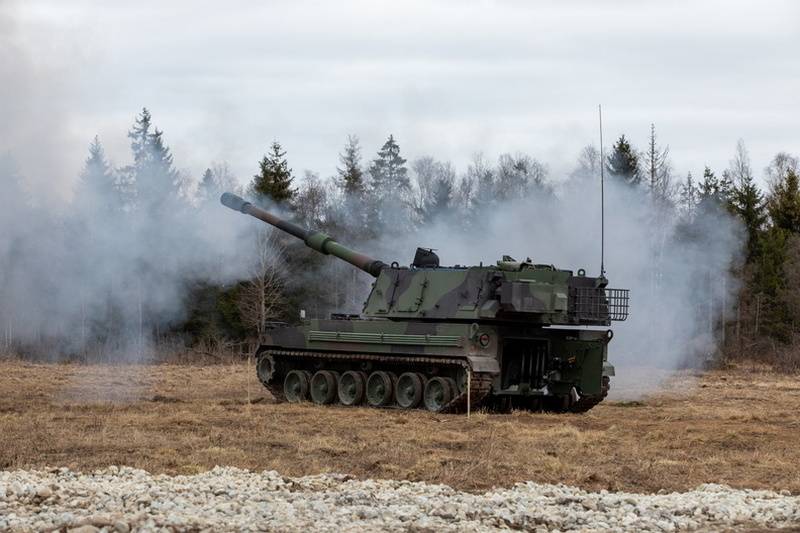 The Estonian Ministry of Defense is purchasing a new batch of South Korean 155-mm K9 Thunder self-propelled howitzers, the decision was made against the backdrop of ongoing hostilities in Ukraine. This was reported by the press service of the Estonian military department.
To date, Estonia is armed with 24 K9 Thunder self-propelled guns, received under two contracts for 18 self-propelled guns with an option for six additional howitzers. It was them that Estonia received in December last year, when a ship with a load of self-propelled guns on board arrived at the southern port of Paldiski. However, in Tallinn, after observing the fighting in Ukraine, they decided that there weren't many self-propelled howitzers and ordered another batch of 12 K9 Thunder self-propelled guns with delivery completed in 2026. New self-propelled guns will go into service with two infantry brigades of the Estonian Armed Forces.
The war in Ukraine clearly shows how important artillery weapons are. In light of the lessons learned in Ukraine, we quickly made the decision to equip both infantry brigades with additional K9 mobile howitzers and take Estonian artillery capabilities to a whole new level.
- said the Minister of Defense of the Republic Hanno Pevkur.
Thus, after the delivery of an additional batch, 36 K9 Thunder self-propelled guns will be in service with the Estonian Armed Forces. In the army, they replace the 155-mm / 39 towed howitzers FH-70 and the Soviet towed 122-mm howitzers D-30.
155-mm / 52 self-propelled howitzer K9 Thunder weighs 47 tons, a powerful diesel engine in 1000 hp provides speeds of up to 67 km / h. Cruising range 480 km. Armed with the KNUMX 9-mm gun with a barrel length of 155 caliber, the rate of fire reaches 52 rounds per minute. Crew 15 people.