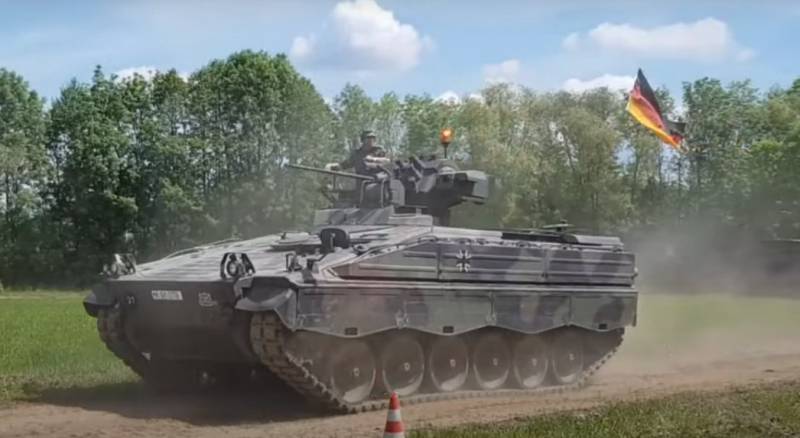 After the obvious successes of the RF Armed Forces in the Donetsk direction, the Western patrons of the Kyiv authorities decided to raise the stakes and start transferring NATO armored vehicles to the Armed Forces of Ukraine.
In particular, at the beginning of this month, the German Ministry of Defense announced its intention to supply Ukraine with 40 units of Marder infantry fighting vehicles.
It is worth noting that the aforementioned car is, to put it mildly, not new. Its mass production started in 1969 and since then it has undergone a number of upgrades.
According to some reports, the version of the Marder 1A3 infantry fighting vehicle, which entered service with the Bundeswehr in 1989, should be transferred to the use of the Armed Forces of Ukraine. However, this upgrade is not the last.
One of the main differences between the Marder 1A3 and previous versions was the reinforced armor, which German engineers considered necessary after the appearance of the BMP-2 with its 30mm cannon in the USSR.
In part, such an upgrade was justified, as the security of the vehicle increased (frontal armor 45 mm). At the same time, it also comes with some disadvantages. In particular, the absence of spherical shooting embrasures and an increase in the combat weight of the Marder 1A3 to 33,5 tons.
The Marder 1A3 is armed with a 20 mm automatic cannon, 1 machine gun and ATGM "Milan 2" (6 missiles). The machine is capable of speeds up to 65 km / h. The power reserve is 520 km. Despite the impressive weight, one of the advantages of the "Marten" (the name of the car in translation into Russian), experts call its maneuverability.
The crew of the German BMP consists of three people, landing, starting from the third version - 6 people (in the first two there were 7).
It is difficult to say what kind of threat to our troops the Marder 1A3, which Germany is going to transfer to the Armed Forces of Ukraine, will be able to pose. The car, by and large, was practically not used in hostilities. In any case, on the battlefield, she is able to deliver, to put it mildly, a lot of trouble.
Since 2010, the more modern Puma infantry fighting vehicles began to replace the Marder in the Bundeswehr.
About
stories
Marder creations: