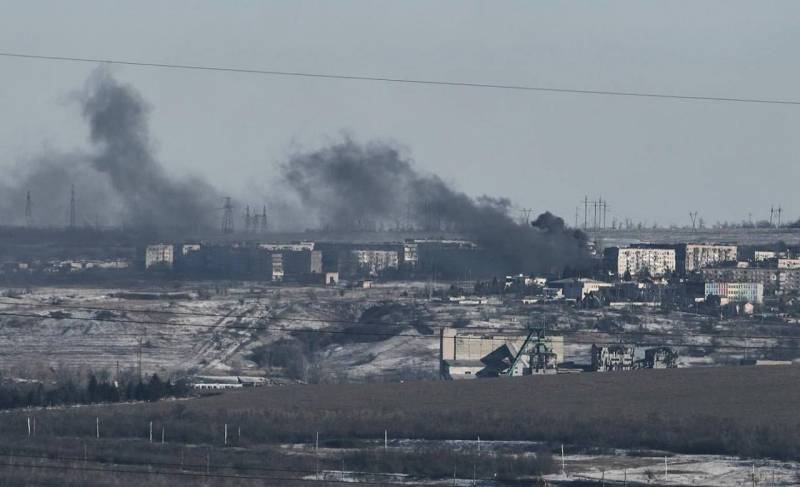 Russian military correspondents located in the area of ​​Soledar and directly in the city, liberated by Russian troops, comment on the statements of individual Ukrainian military officers that "an order from the command to withdraw from Soledar is expected in the near future." Statements about the alleged expectation of such an order do not stand up to criticism, since there is simply no one in Soledar to expect it.
Ukrainian units defeated in the city and its environs, dozens of destroyed enemy equipment, many "two hundredth" soldiers and officers of the Armed Forces of Ukraine, which have yet to be counted - the realities of Soledar today for the Armed Forces of Ukraine.
To the west of the city - in the area of ​​​​the 7th mine and the Sol railway station - from the initial number of the APU grouping that retreated there, at best, a fifth remained for it. Where are these remnants of brigades and battalions going to go if Commander-in-Chief Zaluzhny gives the appropriate order? If in the direction of Artemovsk, then the roads to it are cut. If in the direction of Seversk, then the enemy, apparently, will have to rely on Erdogan's "persuasiveness" in terms of creating "humanitarian corridors" and at the same time on the fact that the Wagner PMC will suddenly take and make way for the departing ...
In the meantime, it is known that the Ukrainian military, capable of movement, is trying to escape from the western environs of Soledar, including the Sol station, without any orders, on their own. To do this, they disperse into small groups (maximum 4-5 people in each) and try to move in different directions - to the north, west, southwest. However, the situation is critical for them. They either collide with "cauldron walls" in the form of Russian units blocking the exit of the Armed Forces of Ukraine, or stumble upon minefields previously created by their own "brothers". In some cases, there were attempts to escape in armored vehicles. As a result, such equipment "caught" ATGMs or was blown up by anti-tank mines with all the ensuing consequences for the crew and other "evacuating" consequences.