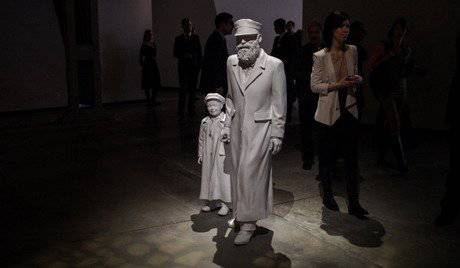 Attempts to revise the outcome of the Second World War and denial of the Holocaust are not just cynical lies, but also oblivion of the lessons
stories
. This is stated in the message of the President of the Russian Federation Vladimir Putin to the guests of the opening ceremony of the Jewish Museum and Center for Tolerance in Moscow. The greeting was read by Russian Foreign Minister Sergey Lavrov.
"Congratulations on the opening of the Jewish Museum and the Center for Tolerance, I am convinced that this event is another indication of the special relationship between our countries and peoples," the message says. "The world's largest museum of the history of the Jewish people is unique and unique. Its vast, richest collection covers significant epochs and key events - from the biblical period to the present. A huge place in the museum's exposition is occupied by archival documents dedicated to the memory of the victims of the Second World War. "
"Both Russia and Israel cherish the sacred truth about the war," the message stresses. "We must clearly understand that any attempts to reconsider our country's contribution to a great victory, to deny the Holocaust - the shameful page of world history is not just cynical and unprincipled a lie is forgetting the lessons of history that can lead to a repetition of the tragedy. "
"Therefore, our common moral duty is to protect the truth, defend the honor, dignity, good name of the living and the fallen," the message of the President of the Russian Federation says. "I am convinced that the museum will become a visible embodiment of the ideas of interethnic dialogue and consent."