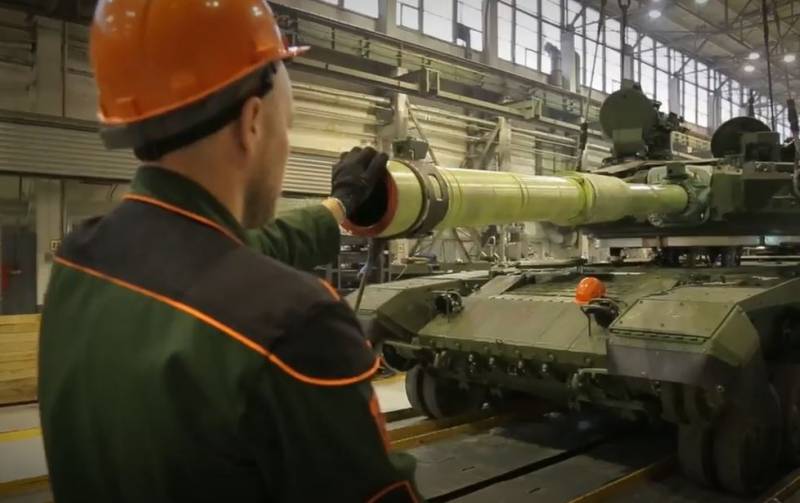 The Russian defense industry is increasing the pace of military production, supplying everything necessary for combat operations in the NVO zone. Today, January 12, 2023, the Uralvagonzavod concern handed over another batch of
tanks
T-90M "Breakthrough".
Recently, more and more T-90M tanks have been entering the zone of the special operation, which are actively used on the front line and have proven themselves from the very best side. According to reviews coming from the front line, the "nineties" proved to be a highly effective machine capable of hitting enemy armored vehicles at a great distance, while tank protection withstands hits from anti-tank missiles, including the American Javelin, praised in the West.
Currently, the UVZ conveyor for the production of new tanks, as well as the modernization of old ones, operates around the clock. The company sent the previous batch of tanks to the troops in the 20th of December, and now a new batch of armored vehicles has been handed over to the military. The number of equipment in the batch is not reported, the press service of UVZ clarified that the next contract for the supply of T-90M "Breakthrough" tanks has been successfully completed, the equipment has been sent to the troops. It is emphasized that the vehicles are assembled taking into account the experience of using tanks in a special operation and the wishes of the tankers.
The T-90M tank was developed as part of the Breakthrough-3 development work and is a deep modernization of the T-90 with an increase in combat and operational characteristics. During the modernization, a new turret module with a 90-mm cannon of increased survivability and accuracy was installed on the T-125M. The turret is equipped with a 12,7 mm remote-controlled machine gun mount. The new tank is equipped with a highly automated digital fire control system that provides search, recognition, auto-tracking and hitting targets. The T-90M is equipped with the third-generation Relikt dynamic protection complex and elements of the Afghanit complex.
According to data coming from military correspondents and from the front line, a lot of new equipment has recently arrived in the NVO zone, including T-90M tanks.