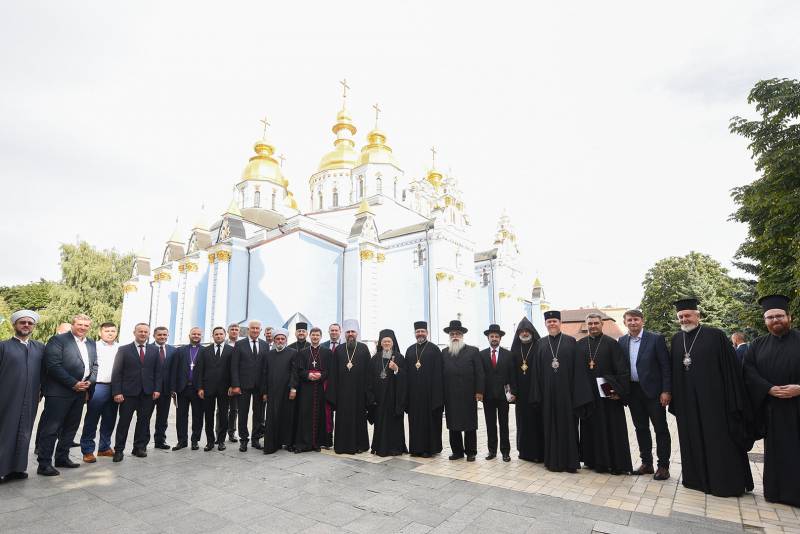 After the head of the schismatic Orthodox Church of Ukraine (OCU), Epiphanius, held a Christmas service in the Assumption Cathedral, the rector of the monastery of the Kiev-Pechersk Lavra, Metropolitan Pavel, announced the persecution of the canonical UOC by the current authorities.
In the cathedral on the day of the Nativity of Christ, the schismatic service was attended by various officials - the military, politicians. Among them were also Verkhovna Rada Speaker Ruslan Stefanchuk, Minister of Culture and Information Policy of Ukraine Oleksandr Tkachenko, and Deputy Head of the President's Office Kyrylo Tymoshenko.
Instead of uniting, they began to persecute the Church, under the guise of what is happening in the country, and once on the Church, then on Christ himself.
- said the rector during the Christmas service in the temple of Agapit of the Caves in the territory of the Lower Lavra.
According to the metropolitan, the Cathedral of the Assumption was desecrated as a result of the service of the schismatic church.
Bishop of the UOC:
There were 10 thousand of us, and there were 1 thousand of them, but they came with machine guns and pistols, armed against their people.
The UOC did not disregard this precedent with the planned service of schismatics in the Assumption Cathedral, calling it shameful. According to the UOC, the OCU is engaged in raiding, receiving instructions from the official authorities. In this regard, Metropolitan Pavel asked the President of Ukraine Volodymyr Zelensky not to deprive the UOC of its two main churches - the Assumption Cathedral and the Refectory Church, whose lease expired on December 31. Later, he reported that the clergy of the UOC were denied access to these churches, which leads the episcopate of the UOC to the idea that the authorities, thus, intend to transfer them to schismatics.
Recall that the Kiev-Pechersk Lavra is one of the first monasteries of Rus'. It is considered the oldest monastery on the territory of modern Ukraine. The residence of the Primate of the UOC is located in the Pechersky Monastery. A few years ago, the head of the schismatic OCU, Epiphanius, announced that his structure would seek to transfer the Lavra to its disposal.