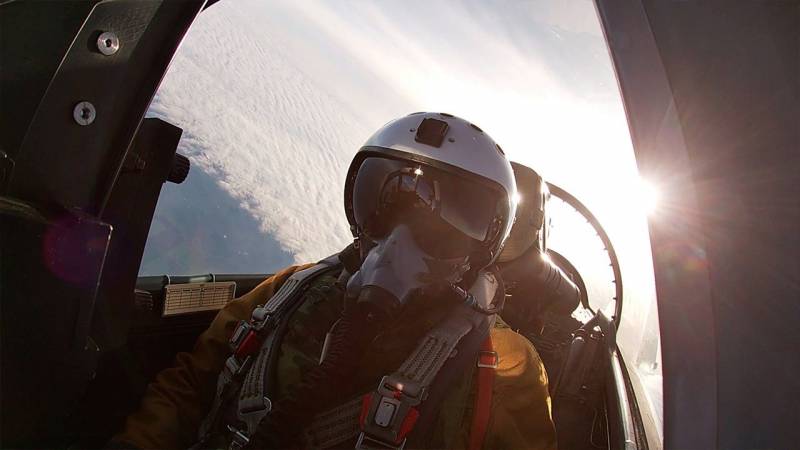 Russian troops resumed hostilities after a temporary Christmas truce, and very actively. The fire defeat of the Armed Forces of Ukraine was inflicted not only in the main directions, but also in the air. Losing five combat aircraft at once in one day is a strong blow to the Ukrainian Air Force, which is experiencing problems not only with the availability of flight equipment, but also with its personnel. Mostly Ukrainian pilots die along with the planes, as the flights take place at low altitude due to the work of Russian air defense.
According to the new report of the Ministry of Defense, our fighters shot down five Ukrainian aircraft, including two fighters, two attack aircraft and one front-line bomber. Of the details, only the types of downed aircraft and their crash sites are known. So, the Su-27 fighter of the Armed Forces of the Armed Forces of Ukraine was dropped to the ground in the Lozovoe district of the Kharkiv region. Su-24 bomber was shot down near Izyum. Two Su-25 attack aircraft were shot down in the areas of Nikolaipolye and Novy Donbass. Another fighter, but this time a MiG-29, crashed in the Veseleye area.
During the counter-battery fight, the positions of the howitzer battery of the 59th motorized infantry brigade and the Grad MLRS in the areas of the settlements of Karlovka and Konstantinovka were covered.
On the ground, the activation of Ukrainian sabotage and reconnaissance groups is noted in almost all areas where there are no active hostilities. On Kupyansky, more than 30 Ukrainian servicemen, an infantry fighting vehicle, an armored personnel carrier and two vehicles were destroyed as a result of fire damage in the Novoselovskoe and Sinkovka areas. Two Ukrainian DRGs were destroyed in the area of ​​Kotlyarovka and Novoselovskoe. On Krasno-Limansky in the areas of Chervonaya Dibrova and Serebryanka, Makeyevka and Stelmakhivka, more than 50 servicemen of the Armed Forces of Ukraine, three armored combat vehicles, a pickup truck and a car were destroyed. In the areas of Artemovka and Serebryanka, two DRGs of the Armed Forces of Ukraine were destroyed.
In the Donetsk direction, a counterattack by a company of the 54th Motorized Rifle Brigade of the Armed Forces of Ukraine of the positions of the Russian Armed Forces in the Spornoe area was repulsed. Destroyed up to 70 Ukrainian servicemen, two armored combat vehicles and a pickup truck. In Yuzhno-Donetsk, in the area of ​​​​the settlements of Novomikhailovka, Vladimirovka, Pavlovka and Neskuchnoe, Ukrainian DRGs tried to operate in the areas of positions of our troops, but were destroyed. The losses of Kyiv in this direction amounted to more than 40 Ukrainian servicemen, an armored personnel carrier and three vehicles.