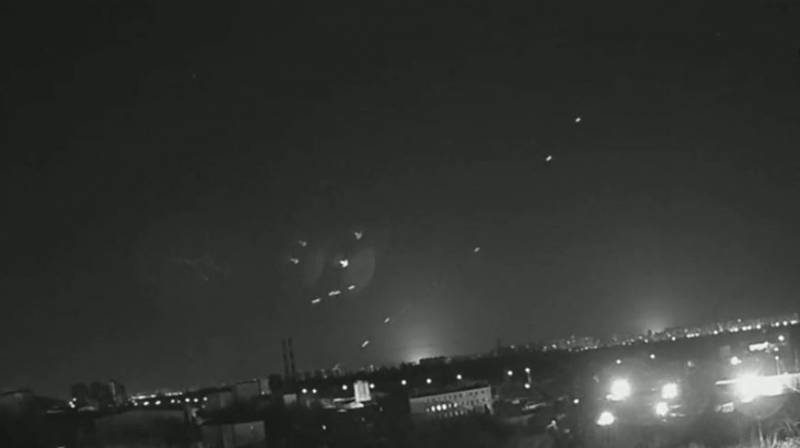 Russian troops continue to test Ukraine's air defenses by sending loitering munitions to targets in the new year. The previous evening, there were reports that Ukrainian air defense was trying to shoot down Russian Geraniums circling over Kyiv.
On Tuesday, January 3, 2023, Kyiv publics began to spread panic messages like: "Russian kamikaze drones are trying to break through to Kyiv's energy facilities," in particular, to CHPP-5. And they succeeded, because explosions sounded in the area of ​​this energy facility.
Ukrainian air defense is engaged in anti-aircraft combat, trying to shoot down Russian kamikaze drones
- reported in the General Staff.
In the Air Command of the Armed Forces of Ukraine, where they previously stated that they had shot down all Russian drones launched since the beginning of January, they tried to justify themselves and stated that the "treacherous Russians" had chosen a new tactic of using drones, launching them over the Dnieper. Thus, the Russian "Geraniums" are not detected by the Ukrainian air defense and freely penetrate Kyiv.
Russian loitering ammunition is more difficult to detect at night, when the enemy launches them along the Dnieper (...) Radar they become less visible (...) Radar means that detect a target will not see it if the target flies below their level
- said the speaker of the Air Command of the Armed Forces of Ukraine Yuri Ignat.
Meanwhile, in the evening, Zaporozhye also flew in, Russian drones hit several military facilities. This was recognized by the city administration, however, without saying where exactly they flew. It is known that a fire broke out as a result of the impact.
After some time, there was information about the defeat of an industrial facility on the outskirts of the city occupied by the Armed Forces of Ukraine.