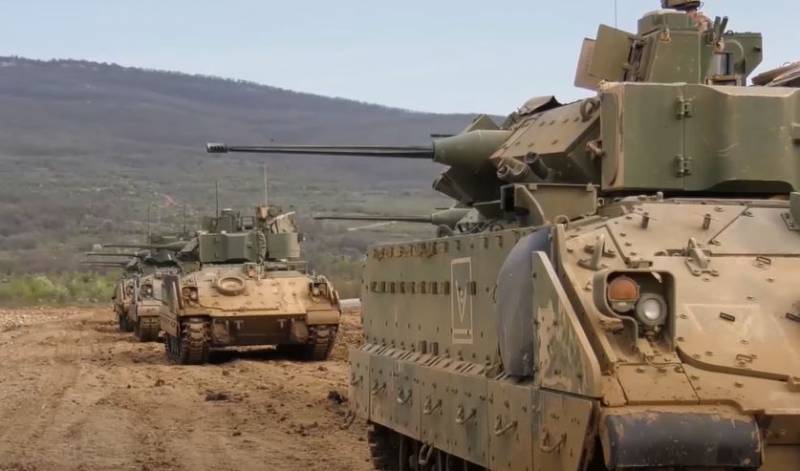 The Ukrainian army may receive American Bradley infantry fighting vehicles, Washington is considering the possibility of supplying these infantry fighting vehicles to Kyiv as part of an additional military assistance package. It is reported by Bloomberg, citing informed sources.
The United States does not exclude the supply of Bradley infantry fighting vehicles to Ukraine, but a final decision on this issue has not yet been made. At the same time, the parameters of the potential delivery are also unknown, so we cannot say how many BMPs Kyiv can receive and in what time frame. It can be noted here that the United States does not just have a lot of these armored vehicles, but a lot, and they plan to remove them from service, replacing them with a more modern model.
The United States believes that the Bradley BMP will significantly enhance the combat capability of Ukrainian troops, being a "worthy rival" to Russian infantry fighting vehicles and
tanks
T-72. At the same time, it is emphasized that in case of a positive decision, Ukraine will not be able to receive these armored vehicles quickly, since their transfer and training of crews will take several months.
There are many Bradley armored vehicles in the United States, although some of them are obsolete and in need of modernization, so stocks are not a problem (...) The Bradley will provide a significant increase in ground combat capabilities, since, in essence, it is a light tank
- said former White House analyst Mark Kanchian.
This event was met with great optimism in Kyiv.
news
, stating that the "new" American infantry fighting vehicles can significantly affect the situation at the front, because, unlike the M113 armored personnel carriers already delivered, they have more "serious" weapons in the form of a 25-mm automatic cannon and TOW anti-tank missiles.