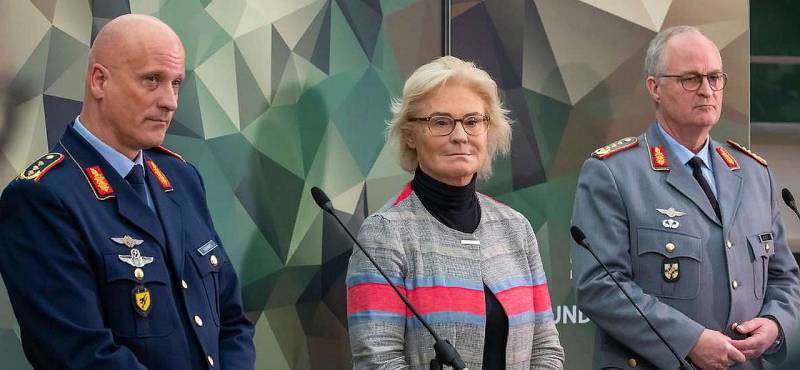 For several months now, the current head of the German military department, Christina Lambrecht, has been criticized from various sides for the inept leadership of the armed forces, the fall in the state's defense capability, including due to the depletion of stockpiles of weapons sent to Ukraine.
The German online publication Focus Online publishes the opinion of a former high-ranking officer of the Bundeswehr, who directly calls the country's Minister of Defense Christina Lambrecht an "amateur" and accuses her of incompetence in commanding the armed forces. In addition, the ex-officer believes that for a whole year she did not manage to surround herself with a team of effective professionals.
As one example of the clear negligence of the Minister of War, the publication cites
history
about massive malfunctions at the Puma infantry fighting vehicle, after which the Bundestag budget committee, at the request of the defense department, allocated 850 million euros for the modernization of 143 army armored vehicles. And this despite the fact that the Accounts Chamber of Germany back in September recommended not to do this, due to the fact that the machines as a whole do not have a sufficient level of technical readiness.
A former officer of the Bundeswehr, who wished to remain anonymous, told reporters that the problem of the Minister of Defense is not only a lack of military experience and knowledge. Having become a leader of the highest level, she never managed to form a team of professional experts who could protect her from making erroneous decisions.
Lambrecht's behavior shows that even a year after her appointment as minister, she lacks the competence to organize the complex management process needed by the Bundeswehr
- says the ex-soldier.
The former officer did not fail to recall the minister's blunders in terms of promptly restoring stocks of weapons and equipment supplied by Germany to Ukraine. And this despite the fact that, on the personal order of German Chancellor Olaf Scholz, the additional financial resources requested for this were provided to the Ministry of Defense in full four days after the start of Russia's special operation in Ukraine.
The ex-officer of the Bundeswehr, apparently, is not ready to criticize the head of state (or the publication moderated this content), but the Germans have no less questions for him than for the Minister of Defense. After all, it was Scholz who recruited his own team of officials, who turned out to be incompetent, after his election to the post of chancellor just over a year ago. As a result of the mismanagement of the entire state, an INSA poll at the end of November showed that 55 percent of Germans are not satisfied with the work of the chancellor, while in March this figure was 39 percent.