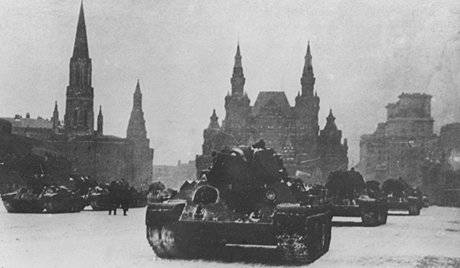 New ones drove into Red Square right from the station
Tanks
. Clearly marching columns of soldiers. From the parade they walked to the front line, which took place just a few kilometers from Moscow. The counterattack began, stunned the enemy.
By this time, the Nazis expected to seize the capital. From Berlin sent a huge number of orders and medals. Wehrmacht soldiers wrote home in letters that they would finally occupy warm apartments. The generals looked through binoculars golden domes. But they miscalculated. Says military commentator Viktor Baranets.
"In recent years, I managed to penetrate some archival documents - government and personal correspondence. I was struck by the uplift of people who were removed from trenches, from dugouts, from the front lines and sent to Red Square. Imagine what it cost our tankers to flawlessly parade in those severe frosts. The army exposed everything with which it was armed. By and large, this parade on Red Square became a powerful moral bridgehead, pushing off from which we drove the Fritz from Moscow. There is a country, a country celebrating holidays. The Kremlin is with us, we have power. This event can be called without any stretch
historical
".
Tank battalions arrived at the parade from Arkhangelsk. In addition, the Chelyabinsk plant sent dozens of new heavy tanks to Moscow. Terrible fighting vehicles were not fully equipped. Starters mechanics received and built already during the movement of railway trains. In total, about 30 of thousands of servicemen and militia fighters took part in the parade, continues Viktor Baranets.
"Of course, I watched the German archives, letters, directives. When Hitler found out about the parade, it made a depressing impression on him. The Germans realized that Moscow did not suffocate, the army acts. Moreover, it is marching. And it played a demoralizing role. By the way, one of the German documents is an instruction from Goebbels to strictly prohibit the dissemination of information about the parade in the German troops. "
There were quite a few foreign correspondents in the stands of Red Square. So the news of the parade has spread all over the world. That day the orchestra was conducted by Vasily Agapkin, the author of the famous march "Farewell of Slav". The parade was over, but he could not get off the ground. The boots were frozen to the platform. He himself could not say a word - his lips froze and did not move. The run-up musicians removed the conductor from the podium and took him under the arms to the GUM building. Inspired by the parade, the Red Army troops launched a series of crushing blows at the enemy in the Mozhaisk, Volokolamsk and Maloyaroslavets areas.
57 participants of the parade live in Moscow. Many of them are among the thousands of World War II veterans 7 November will come to the stands of Red Square. A solemn march will be held. Guardsmen of the motorized rifle brigade, museum tanks and cavalry group of the Presidential Regiment will recreate the historical part of the 1941 parade of the year.