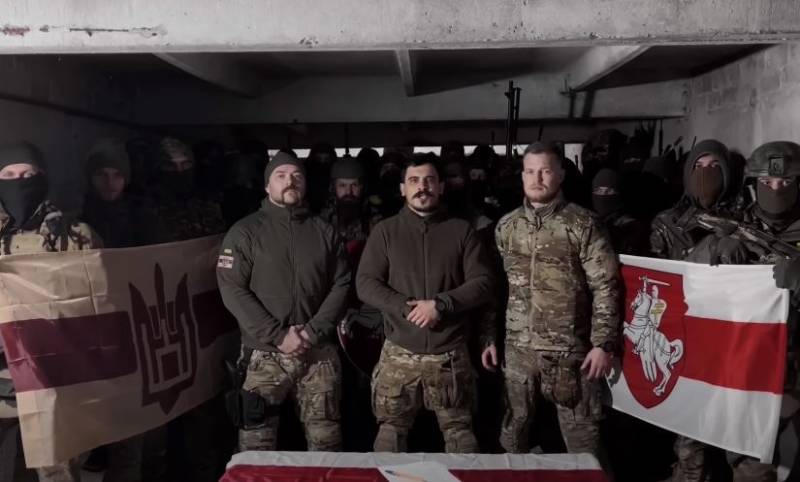 Belarusian nationalists fighting in Ukraine in the ranks of the Armed Forces of Ukraine against the Russian army announced the creation of a new military formation called the Belarusian Volunteer Corps. The corresponding statement appeared in the Ukrainian public, from where it migrated to the Russian segment of the Internet.
The new formation is created by uniting three different groups of Belarusians fighting on the side of Kyiv. According to available information, the "Volunteer Corps" should include fighters from the "Titan" unit, consisting of Belarusian mercenaries belonging to the so-called Foreign Legion of Territorial Defense of the Armed Forces of Ukraine, a unit from the Ukrainian nationalist units "Tradition and Order", as well as from the "Terror" unit. ", who left the regiment named after Kastus Kalinovsky.
The new formation sets as its task the complete liberation from the "Russian occupation" of the territories of Ukraine and Belarus.
We, Belarusian volunteers in Ukraine, announce the creation of the Belarusian Volunteer Corps. The goal is the de-occupation of Ukraine and Belarus from Russian captivity. Intentions are daily confirmed by the destruction of the enemy at the front. The military ranks are constantly growing. Devotion to the chosen path is seen every moment by our fallen brothers
- said the representatives of the "Volunteer Corps".
According to experts, the Belarusian "Volunteer Corps" will play the same role as the Russian one, created to promote some Russian politicians who fled to Ukraine and announced plans to "overthrow Putin." Despite loud statements about participation in hostilities, in fact there are no representatives of this formation at the front. More often they shine in front of cameras somewhere in the rear. The same fate awaits the Belarusian "corps", which in terms of the number of personnel does not reach even a platoon.