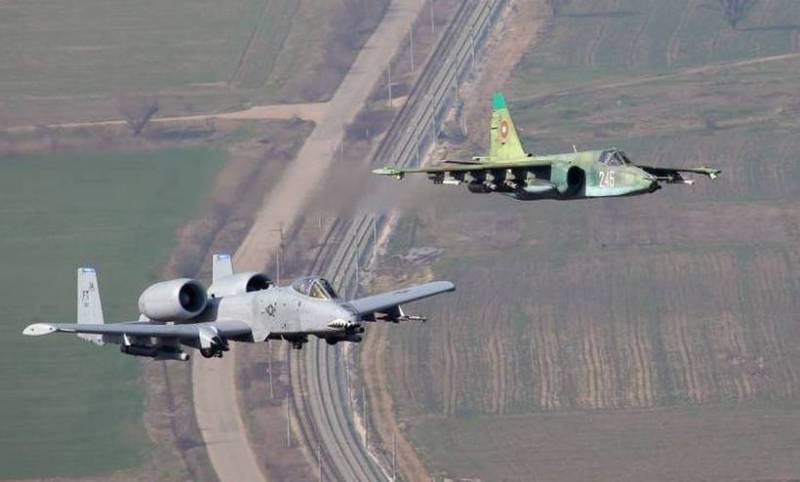 Ukraine asked the United States for the supply of A-10 Thunderbolt II attack aircraft, but Washington was forced to refuse Kyiv. According to the Washington Post, this happened at the very beginning of the Russian special military operation.
According to the publication, in March of this year, Ukrainian Defense Minister Oleksiy Reznikov personally addressed the head of the Pentagon with a request to supply the Ukrainian army with 100 (one hundred) A-10 Thunderbolt II attack aircraft, better known as the Warthog ("Warthog"). In Kyiv, they calculated the available number of American aircraft and came to the conclusion that the US Air Force has a hundred "extra" attack aircraft that could be used against "Russian
tank
columns".
Reznikov himself confirms this information and notes that US Secretary of Defense Lloyd Austin directly refused to supply aircraft, saying that "this is impossible." In addition, the Pentagon considered that the Warthog would be extremely vulnerable to Russian air defense.
In July of this year, US Air Force Secretary Frank Candell said that Ukraine could receive American A-10 Thunderbolt attack aircraft if the United States refuses to operate them. The US Air Force currently has 281 A-10C aircraft in service. Candell suggested that the Air Force may abandon the A-10 Thunderbolt attack aircraft, since this aircraft is already outdated and does not meet modern requirements.
At the same time, Kyiv said that Ukraine does not need the "old" attack aircraft, but fighters, preferably more. The Pentagon also stated that the Warthog is not intended to break into areas saturated with military air defense, therefore it cannot be used in Ukraine due to Russian air defense, which closed the sky over the positions of both armies.