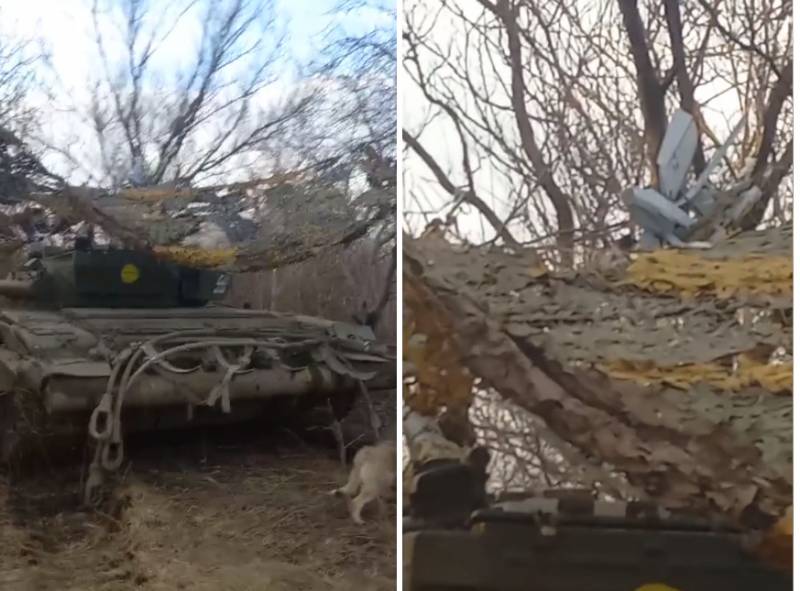 Footage of two Russian Lancet-3M strike UAVs appeared on the Internet, allegedly stuck in a camouflage net stretched over
a tank
T-72M belonging to the Armed Forces of Ukraine. About the reason why the drones ended up there, one can only build versions.
It is unlikely that the drone simply could not overcome such a frivolous obstacle as an ordinary camouflage net, because the Lancet is moving towards the target at high speed, and here it turns out that two drones were allegedly unable to cope with their simple task at once, and this is completely doubtful .
Therefore, it makes sense to consider other possible options. For example, a drone could be shot down, after which it fell onto the grid. Or there was simply a staging of the APU fighters, that is, they put the fragments of downed or for some reason unworked loitering ammunition on top of the net in order to shoot beautiful shots. It can also be assumed that the drone still worked before reaching the tank. For example, bumping into a tree branch.
On the other hand, the footage also shows that the Lancet strike, if it is not a XNUMX% staged attack, was delivered precisely on the tank, that is, the disguise did not help him. But this time the crew was lucky. And since the tank continues to be on the front line, such luck may end at some point.