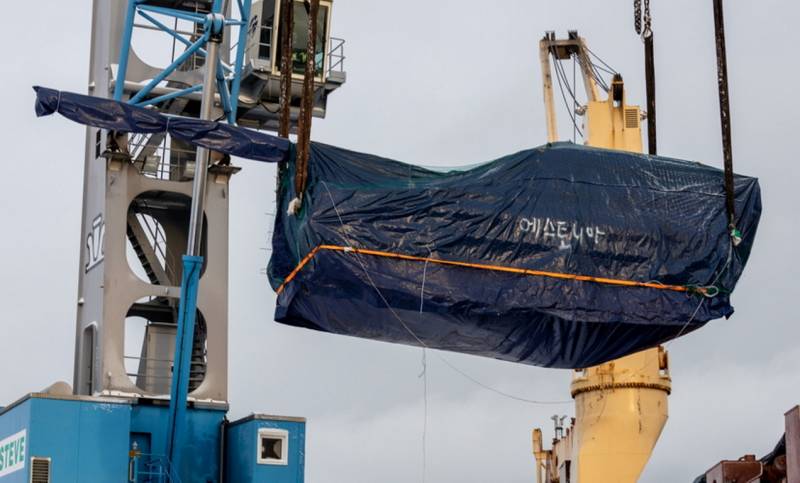 Estonia received an additional batch of South Korean K9 Thunder self-propelled artillery mounts. The entire consignment arrived by sea in the port of Paldiski, where the unloading took place. This is reported by the Ministry of Defense of Estonia.
According to the Estonian military department, a total of 6 self-propelled guns K9 Thunder arrived in the republic, in total Estonia will receive 24 gun mounts.
On Saturday, six additional self-propelled guns K9 Thunder arrived at the South Port of Paldiski. Earlier, 12 artillery installations were delivered to Estonia from South Korea, which significantly improved the fire capabilities of the Estonian Defense Forces.
- said in a statement.
The first agreement on the purchase of a batch of 12 units of 155-mm K9 Thunder self-propelled howitzers was signed by Estonia and South Korea in 2018. The self-propelled guns are designed to arm the artillery battalion of the 1st infantry brigade of the Estonian army, which was armed with German 155-mm / 39 towed howitzers FH-70 and Soviet towed 122-mm howitzers D-30. The Estonian Ministry of Defense announced the purchase of a second batch of six K9 Thunder howitzers in 2019.
In total, Estonia ordered 18 howitzers with an option for six more self-propelled guns, for a total of 24 units.
155-mm / 52 self-propelled howitzer K9 Thunder weighs 47 tons, a powerful diesel engine in 1000 hp provides speeds of up to 67 km / h. Cruising range 480 km. Armed with the KNUMX 9-mm gun with a barrel length of 155 caliber, the rate of fire reaches 52 rounds per minute. Crew 15 people.