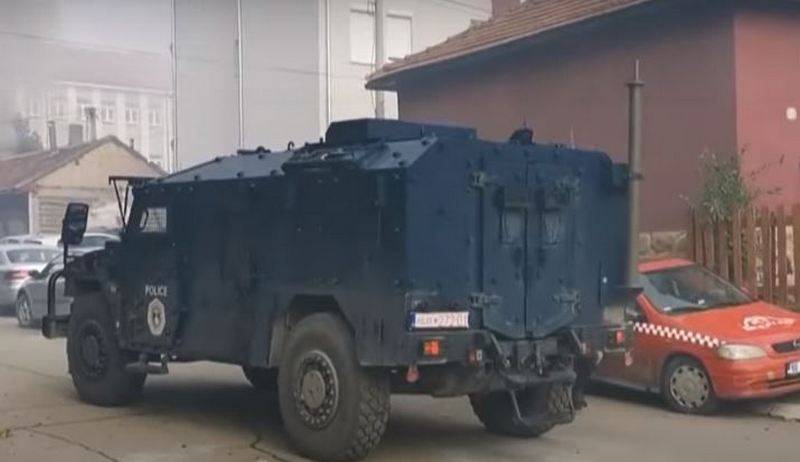 Serbia has threatened to send its own security forces into Kosovo to resolve the situation if the authorities of the self-proclaimed republic do not recall the special forces that invaded the territory of Serbian municipalities in the north of the country.
The situation in the north of Kosovo and Metohija became completely explosive after the fact that, as Kosovo Prime Minister Albin Kurti, he ordered armed units of the Kosovo police and special forces to enter the territory of Serbian municipalities. Approximately 300 police officers blocked the northern honor of the city of Kosovska Mitrovica, thereby violating the provisions of the Brussels agreements, according to which Kosovo police forces are not allowed to enter these territories without the permission of the heads of four Serbian municipalities.
More than 200 armed commandos of the Kosovo police, accompanied by armored vehicles, crossed from the southern (Albanian) to the northern (Serbian) part of Kosovska Mitrovica. The special forces were located on the edges of the city and blockaded the entire northern Mitrovica
writes the local press.
In Pristina, they explain this by the need to "ensure security." However, the appearance of the Kosovo special forces played a completely different role, the Serbs began to gather on the streets, all public institutions were closed, the situation was heating up. Serbia, in response to the actions of the Kosovo authorities, threatened to send security forces back into the territory of the unrecognized republic in accordance with a UN resolution.
Belgrade will consider the return of up to 1 of our security forces to the territory of Kosovo and Metohija, as provided for in paragraph 4 of UNSCR 1244
- said the head of the office for Kosovo and Metohija under the Serbian government, Petar Petkovic.
Earlier in Belgrade, the authorities of the unrecognized Kosovo were accused of trying to completely occupy the northern "Serbian" municipalities in order to oppress the Serbian population. Recall that Serbia does not recognize the sovereignty of Kosovo, considering it its own territory.