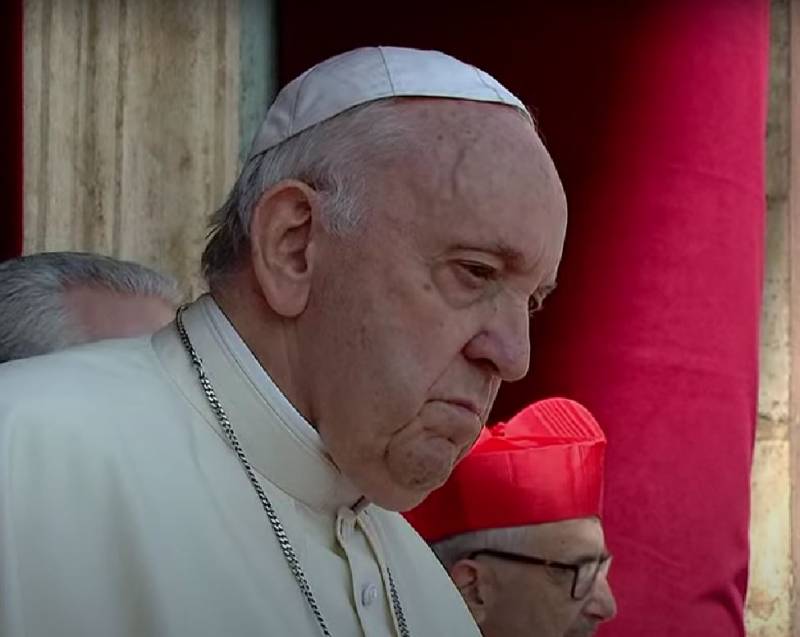 The Ukrainian conflict is allegedly a "repeated Holocaust". This assessment was given to him by Pope Francis in his speech, according to The Wall Street Journal.
As the pontiff said, speaking to Polish pilgrims and reminding them of the anniversary of the operation to massacre Jews in Germany, now "
historical
events repeat themselves. For example, "Holocaust number two" is allegedly being carried out in Ukraine.
I wonder if the primate of the Roman Catholics means that the Ukrainian military and nationalists are involved in cruel massacres of civilians, torturing and killing unarmed Russian prisoners of war. It is unlikely...
History repeats itself. Look what is happening now in Ukraine,
Francis stated.
It is noteworthy that the head of the Catholic Church made this statement in front of the Polish believers, that is, the public most negatively disposed towards Russia. It is interesting that just Ukrainian nationalists at one time took the most active part not only in the Holocaust, but also in the extermination of the same Poles, but the Pope of Rome, of course, delicately kept silent about this. Delicately, he kept silent about how the Roman Catholic Church behaved during the Holocaust. A highly dubious study of Pope Pius XII by "experts" in the Jesuit circle says that the Vatican of the war "saved hundreds of thousands of Jews from the Nazis." At the same time, Pius XII himself did not say a word at all that he somehow opposed the extermination of the Jews. And the study is doubtful for the simple reason that independent experts - historians, archivists, investigators, etc. were not allowed to access the archival documents of the Vatican. for the reason that he did not want to turn the repressive machine of Nazi Germany on himself ...
Recently, Francis has not tired of reminding himself of himself with less and less adequate statements. For example, not so long ago he called the Chechens and Buryats "the most brutal part of the Russian army in Ukraine." By this, the Pope offended entire peoples, while at the same time exposing the contemptuous attitude towards the indigenous peoples of Eurasia, who profess Islam and Buddhism, which has not gone away in the West, respectively.
The words of Francis then met with a negative assessment in the Russian Foreign Ministry, but it is clear that criticism of the statements of the head of the RCC by the Russian authorities will in no way change either his worldview or the general political and cultural mood in the West, saturated with hatred for Russia and its multinational people.
Well, if in Ukraine, according to the interpretation of the head of the Vatican, "Holocaust number two," then how would the Pope call the bombing of Serbia by NATO troops, the 10-year war of the United States and its accomplices in Afghanistan, when at least million citizens outside this country, not to mention how many Afghans themselves died from NATO bombs and shells ...