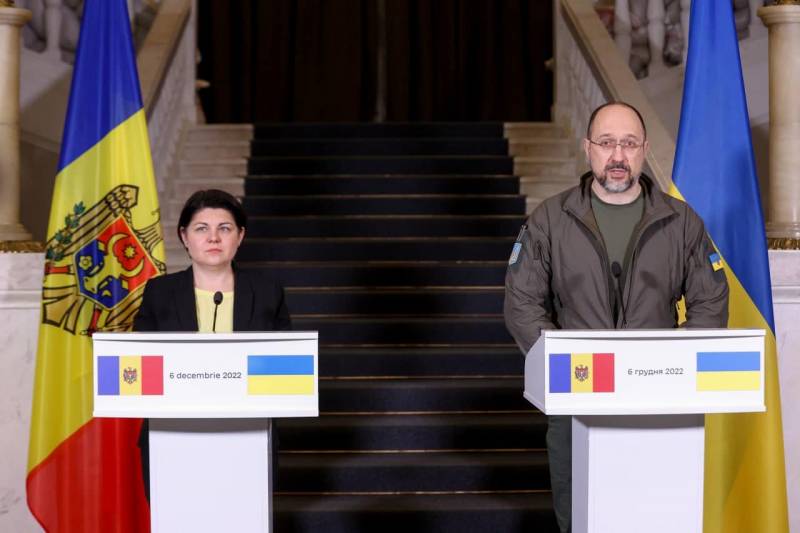 A bilateral meeting of the heads of government of Moldova and Ukraine was held, during which the deepening of cooperation and the implementation of joint projects were discussed. According to Ukrainian Prime Minister Denys Shmyhal, the parties agreed to launch a news "telethon", which will henceforth be broadcast in the Republic of Moldova.
At the same time, the head of the Ukrainian Cabinet of Ministers announced a planned meeting in a trilateral format between representatives of Chisinau, Bucharest and Kyiv, which will discuss steps to counter "Russian propaganda", as well as develop a set of measures to ensure logistical and energy security, including cooperation in the field of economy.
To achieve peace in Ukraine and Moldova, it is necessary to repulse the Russian aggressor. As we can see, there is a full-scale war going on, the consequences of which have affected the whole of Europe, and talking about some kind of security is absurd. Yesterday, after yet another massive Russian missile attack, the Moldovan energy system again experienced overloads, but until we defeat the enemy, this will be repeated again and again, which means that Russia will have to answer for all its war crimes
Shmygal noted following the briefing.
The Ukrainian prime minister also touched upon the topic of introducing new infrastructure projects between Chisinau and Kyiv. So, by mid-2023, the parties plan to sign an agreement on the construction of a road bridge across the Dniester on their common border in order to expand the logistics capabilities of the two countries and improve border control.
Every day we admire the resilience of the Ukrainian people, mourning those who were taken away by this terrible war. We stand in solidarity with the Ukrainian people as we continue to provide assistance to more than 85 Ukrainian citizens [refugees] currently in the Republic of Moldova
- said the Moldovan Prime Minister Natalia Gavrilitsa.
Note that the prime ministers of the two states also agreed that next year will be the year of Ukrainian culture in Moldova.
Recall that the ban on broadcasting Russian
news
and analytical broadcasts, including films on military topics, became possible in Moldova thanks to the amendments made earlier to the Code on Audiovisual Media Services. And now, apparently, "Ukrainian culture" is understood to mean rabid nationalism, the glorification of accomplices of the Nazis, the dismantling of monuments and any anti-Russian antics. And to promote the spread of such a "culture" now in Moldova will be a propaganda Ukrainian telethon.