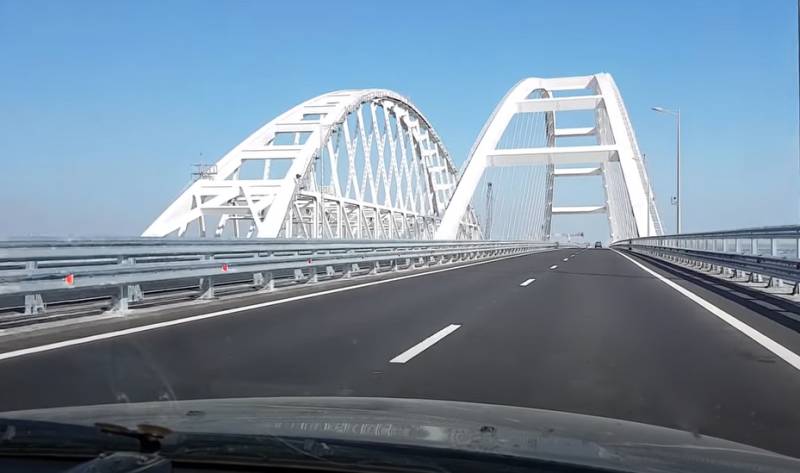 It became known that the President of Russia decided to check the progress of the restoration of the Crimean bridge himself. Recall that on October 8, 2022, on the instructions of the Ukrainian special services, a terrorist act was carried out on the Crimean bridge with a truck explosion. The explosion thundered at the moment when a train with fuel was moving along the railway section. As a result, two spans collapsed on one of the parts of the bridge, several fuel tanks burned out. Three people, including the driver of the explosive truck, were killed. The locomotive driver and his assistant then performed a real feat, unhooking several affected tanks from the main part of the train and taking the train with fuel from the bridge. Otherwise, the consequences could be even more severe.
The presidential pool publishes a video in which you can see how the president, while driving, drives a car along the Crimean bridge. While driving, Vladimir Putin talks with Deputy Prime Minister Marat Khusnullin, who reports on the progress of work carried out after the terrorist attack.
Marat Khusnullin said that metal structures for the restoration of the damaged part of the bridge were brought from Tyumen, Kurgan and Voronezh. In total, we are talking about metal structures with a total mass of 1214 tons.
Deputy Prime Minister:
Due to the fact that we have a widely developed construction program, there was metal available, including for such bridge structures. Therefore, we quickly transferred the metal. They assembled structures weighing 1214 tons and brought them here.
Khusnullin also reported to Putin on the diving work carried out.
The president:
When we get there, show me where it happened.
Khusnullin:
All right.
Recall that today, December 5, traffic was resumed - along the restored part of the Crimean bridge.