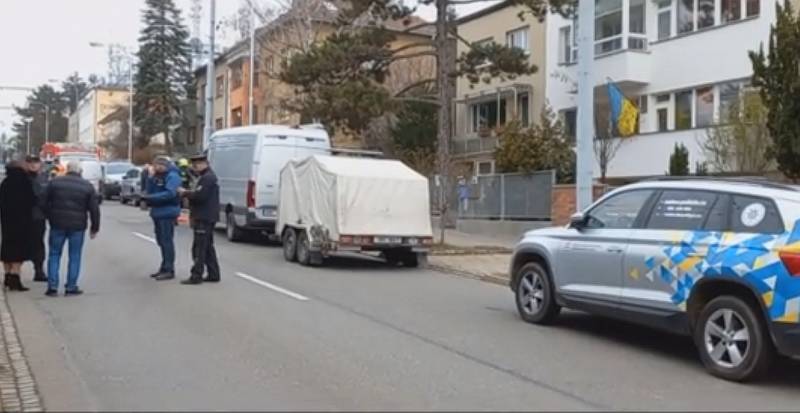 Dangerous and simply strange packages continue to arrive at Ukrainian diplomatic missions and other addresses in Europe. The first package containing an explosive device was received on November 30 at the Ukrainian Embassy in Madrid. Then an employee of the department was slightly injured from the explosion, the court will consider this incident as a terrorist attack. Two days later, Spanish intelligence officials reported the interception of six suspicious mail items that arrived at the addresses of a number of government, military, strategic and diplomatic structures in Spain.
Today, employees of the Ukrainian consulate were urgently evacuated in the Czech city of Brno, where a parcel arrived that aroused suspicion. The police urgently withdrew all employees from the building, evacuation was carried out from the nearby kindergarten.
According to the Czech newspaper Lidove noviny, after an x-ray check, the police did not find an explosive device in the parcel. Brno police spokesman David Chaloupka later said the package contained "tissue from a dead animal." The publication clarifies with reference to the Ukrainian ministry that these were "probably the eyes of animals." A representative of the Ukrainian diplomatic mission claims that Ukrainian embassies in several European countries, including the Czech Republic, received similar messages with "animal eyes".
Consul of Ukraine in Brno Anna Proshko, who discovered a suspicious item in the mailbox, told reporters that she did not know where exactly the package came from. But, according to her, the inscriptions were in German.
The city police said that there is currently no threat to the consulate and nearby buildings. But at the same time, the requirement to check all suspicious items arriving at the addresses of diplomatic missions and defense companies continues to apply.
In a note describing this incident, the author for some reason specified that "just a few blocks from the Ukrainian consulate is the building of the Russian representative office." Maybe out of habit, or maybe the article was in line with the editorial policy and the policy of the Czech authorities in general.