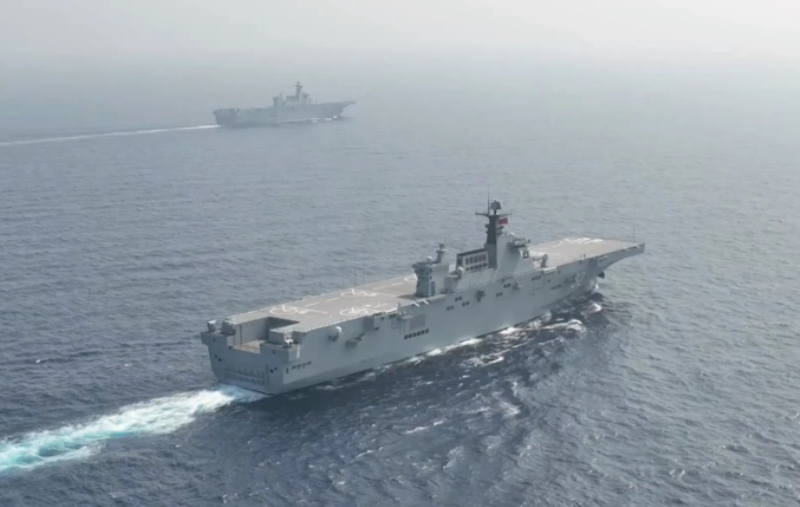 According to information released by the Chinese People's Liberation Army (PLA) Navy, the first two ships of Project 075, named Hainan (Hainan) and Guangxi (Guangxi), have passed a full course of trials close to combat.
Footage posted to the Chinese Navy's Weibo social media account shows the two ships conducting sea trials at sea. At the same time, the time and place of their holding are not reported.
The 075 class is the largest amphibious assault ship (UDC) in service with the Chinese Navy, with a full-length landing deck that allows six helicopters to take off simultaneously. It is capable of carrying up to 30 rotorcraft, including the Chinese-made Z-20 and Z-18 and the Russian-made Ka-52.
With seven levels of dock space, the ship can carry 35 landing vehicles or three landing hovercraft, as well as about 1000 Marines and their equipment. This massive transport ship can also carry up to 10 major Chinese combat
tanks
Type 99A, 20 Type 05 armored infantry vehicles and 50 SUVs.
It is widely believed that the 075 series will play a vital role in a potential military campaign against Taiwan. For this purpose, the ships are considered to be ready. According to previously disseminated information, the Chinese Navy plans to build five more ships of the 075 type.
Along with 10 071-class ships, the PLA Navy will have a strong fleet to transport troops across the Taiwan Strait.
The unprecedented growth in the shipbuilding of the PLA Navy in recent years, according to some reports, has made them the largest in the world.
fleet
by the number of ships. It is believed that China has surpassed the United States in this indicator.