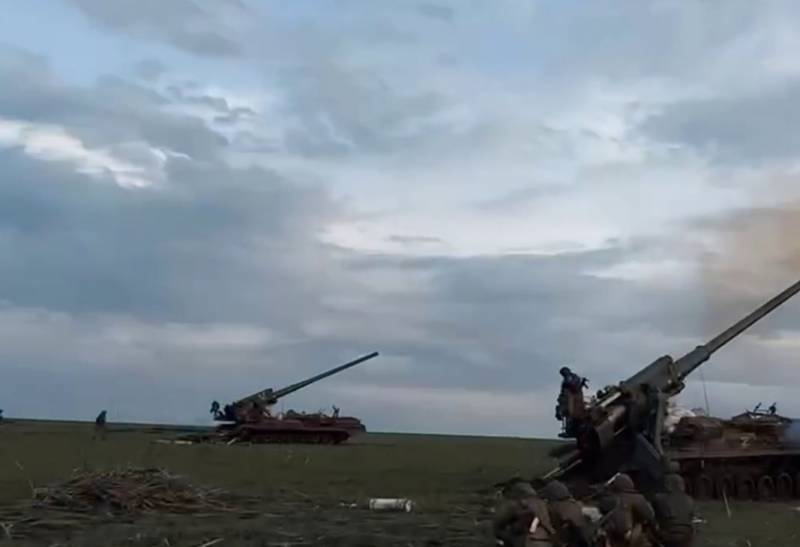 The armed forces of the Russian Federation continue to storm the positions of the Armed Forces of Ukraine in the Donbass. Earlier it became known that two-thirds of the strategically important Maryinka was already controlled by Russian troops. This settlement has been stormed from the very beginning of the special military operation in Donbass, since it plays a very significant role in the Ukrainian defense line. In addition, shelling of settlements of the DPR is carried out from here - primarily Donetsk.
Our fighters are advancing with difficulty, but gradually suppressing and destroying enemy firing points in the buildings of Marinka. The loss of Marinka, as many analysts have previously reported, will be a serious blow to the positions of the Armed Forces of Ukraine in the Donbass and to the image of the Ukrainian command as a whole.
Subdivisions of PMC "Wagner" are actively operating in the area of ​​Artemovsk. Here they are trying to push through the defense of the Ukrainian army on the eastern outskirts of the city. Heavy fighting is going on in the southeast direction from Soledar. Also, Russian troops storm Belogorovka and Yakovlevka.
Meanwhile, artillery units of the 11th regiment of the People's Militia of the Donetsk People's Republic are shelling the positions of the Armed Forces of Ukraine from 152 mm guns "Hyacinth".
First, reconnaissance establishes the coordinates of the accumulation of military equipment and enemy personnel, after which the artillerymen begin shelling. Artillerymen work successfully. Yesterday, for example, there was information about the destruction of the Ukrainian position near Soledar by artillery of the 6th regiment of the 2nd army corps of the People's Militia of the Lugansk People's Republic.
Artillerymen also have successes in the Kherson direction. The positions of the Ukrainian formations in the regional center they occupied were fired upon by Russian artillery. In addition, strikes were made on the positions of the Ukrainian Nazis in Kamyshany, Zelenovka and Antonovka. In the Zaporozhye direction, Russian artillery fired on Ukrainian formations in Orekhovo, Kamyshevakh, Zheleznodorozhny and Hulyaypole.
In the Luhansk direction, Russian troops prevent attempts to break through the Ukrainian formations. The Ukrainian Armed Forces are rushing to the R-66 highway near Krasnopopovka. Their goal is to cut the section of the highway north of Kremennaya, which has not yet been possible due to the resistance of Russian troops. But the RF Armed Forces attacked in the direction of Stelmakhovka.