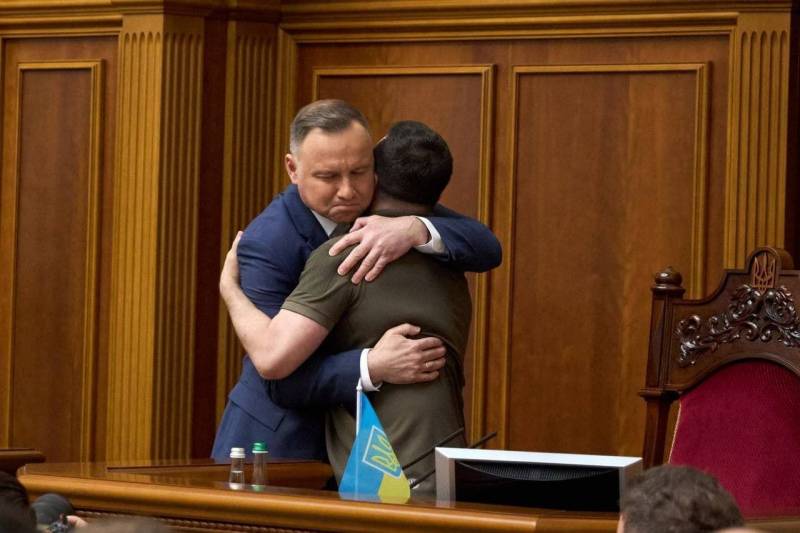 The press service of the President of Poland circulates Andrzej Duda's commentary on Volodymyr Zelensky's statements about "admission of Ukrainians to investigate the explosions in Przewoduw". Recall that a few hours ago, the head of the Kyiv regime announced the alleged decision of the Polish authorities to organize the admission of the Ukrainian side to the investigation of the case of a rocket explosion in the Polish region of Lublin.
The President of Poland had to actually refute Zelensky's statement.
According to Duda, representatives of Ukraine "can get acquainted with the investigation into the fall of the rocket in Poland, but not participate in this investigation."
The Polish president noted that a commission of the Prosecutor General's Office of Poland, "which has enough resources to establish all the circumstances of the explosions" in the Lublin region, is working on the spot.
Earlier, the Polish authorities said that "with a high probability, the rocket that exploded in Pszewoduv was a Ukrainian air defense missile." To this, Zelensky declared "his confidence that the strike was not Ukrainian."
Thus, Duda made it clear to Zelensky (especially after statements and calls from Washington) that he should not interfere in the situation. Recall that earlier in NATO they made it clear to Warsaw itself that it was not necessary to activate the 4th (consultation), and even more so the 5th ("protective") clause of the NATO charter in connection with the missile fall near Lublin.