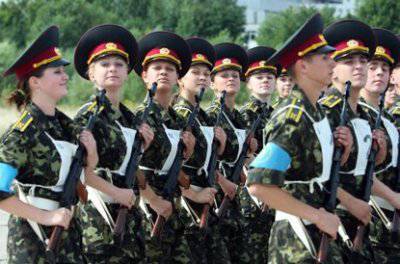 Lukashenko introduced the "House of Representatives" draft amendments and additions to the law on conscription and military service. Women who are liable for military service must begin to mentally prepare for what will have to go "to the partisans," writes Narodnaya Volya.
To this day, Belarusian women have not been called for military training. In the same way, they did not call teachers, farm workers, citizens involved in sowing and harvesting work "into partisans". However, in accordance with the wording of the law, which Lukashenko proposes, all these "benefits" will not be distributed to military assemblies to check the combat and mobilization readiness of military units, which are held by order of the ruler. "Deputies" were asked to pass a law, in accordance with which everyone who is a military serviceman (including women) will have to put on their boots and go "to the army". In the category of "beneficiaries" exempted from military assemblies, Alexander Lukashenko proposes to leave only "deputies", members of the "council of the republic", judges, prosecutors, etc.
Another important innovation of the draft law submitted to the "chamber of representatives" is a significant complication of the procedure of dismissing from the army those who serve on a professional basis. Now, if an officer is recognized for health reasons unfit for the position he occupies, he can safely leave the army ranks. Now you just can not take off the form. Restrictions on health status will not be grounds for dismissal from the Armed Forces - the army undertakes to find other work for officers.
The latest innovation is particularly painful for young officers who use any loophole in the laws to flee the army without working five years after graduation.