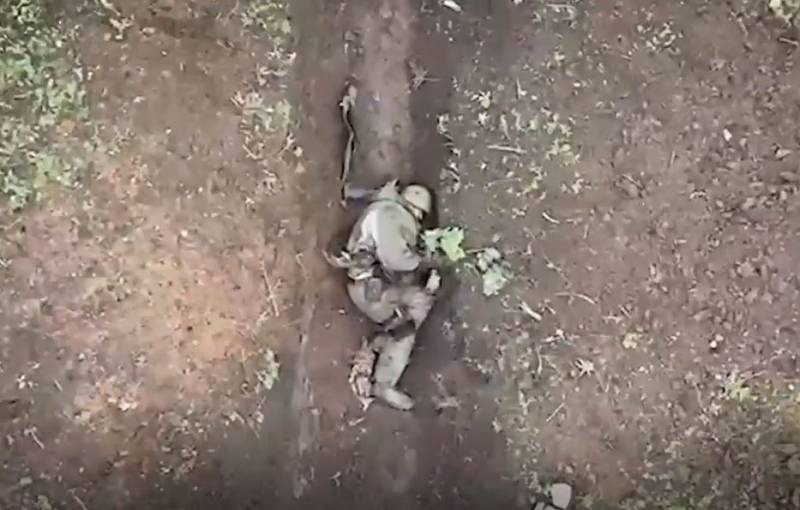 A video of a Russian soldier coldly throwing away grenades dropped on him from a drone appeared on Russian Internet resources. Judging by the video, the shooting was carried out from a Ukrainian drone with the simultaneous release of grenades.
The video footage shows a Ukrainian drone "hunting" for a single Russian soldier in a trench. Although, judging by the uniform and metal helmet, this is most likely a fighter from among those mobilized in the republics of Donbass, such protective helmets have not been used in the Russian army for a long time. Yes, and in the personnel units of the NM of the DPR and LPR, too. But, like it or not, he is still a Russian soldier.
In the video, a Ukrainian drone with a grenade hanging on it tries to hit a fighter in a trench and drops some kind of ammunition with an attached tail, which falls behind the soldier's back. He, not at a loss, calmly takes it out and throws it away from himself, after which he moves to another place. However, the drone tries again and throws a hand grenade, which the fighter also throws away from him. However, the explosion that occurred could hit the soldier, because after it the fighter only raised his head and did not move further. In the third attempt, the drone smears and the ammunition dropped by it explodes a few meters from the soldier lying in the trench, he does not react to it in any way.
Where this video was filmed, on what sector of the front and when is unknown, there are no explanations. It is suggested that since the shooting was interrupted after the third discharge of the grenade, the fighter could survive. There are chances for this.
It is worth noting that cases of throwing enemy grenades are not so rare, there were especially many of them during the Great Patriotic War. In any case, the Russian soldier showed himself to be a courageous and cold-blooded fighter, having managed to throw away two grenades.