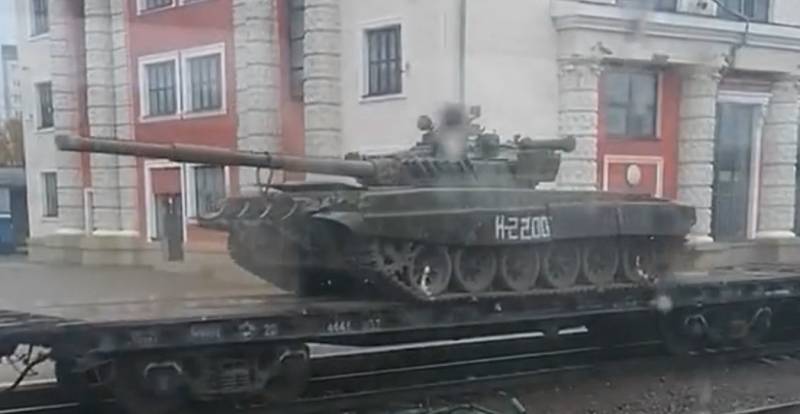 Belarus removes from storage
Tanks
T-72A, after which it transfers them to Russia, another echelon with military equipment set off from the Minsk region of Belarus to the Rostov region of Russia. Ukrainian sources suggest that these tanks will soon be in service with Russian army units participating in a "full-scale invasion" of Ukraine.
The Belarusian military removed from storage another batch of T-72A tanks, the equipment was located at the 969th tank reserve base in Urechye, Lyubansky district, Minsk region. According to Kyiv, a total of 24 tanks were included in the batch, they have already been loaded onto platforms and sent by rail to the Rostov region.
According to Ukrainian sources, this is the sixth batch of tanks sent from Belarus to Russia. In total, 94 T-72A tanks and 44 Ural trucks have recently been removed from mothballing, all of them have been sent to Russian territory. It is suggested that the equipment will go into service with new units, including those recruited as part of partial mobilization.
Neither the Russian nor the Belarusian Ministry of Defense comment on the transportation of tanks, now the military of the two countries are busy deploying a united group of the Union State on the territory of Belarus. According to the official data of the Belarusian military department, the Russian military is transferring to the republic about 170 tanks, up to 200 infantry fighting vehicles - armored personnel carriers, about 100 guns and mortars with a caliber of over 100 mm. The group will also include about 9 Russian servicemen.
It turns out that Belarus is sending to Russia the tanks removed from the mothballing supposedly for participation in hostilities, at the same time Russia is transporting its tanks to the republic.
Meanwhile, American intelligence reports that the Russian-Belarusian group is gradually building up forces near the borders of Ukraine, the danger of an invasion from the northern direction is increasing.